Theresa May in Canada for post-Brexit trade talks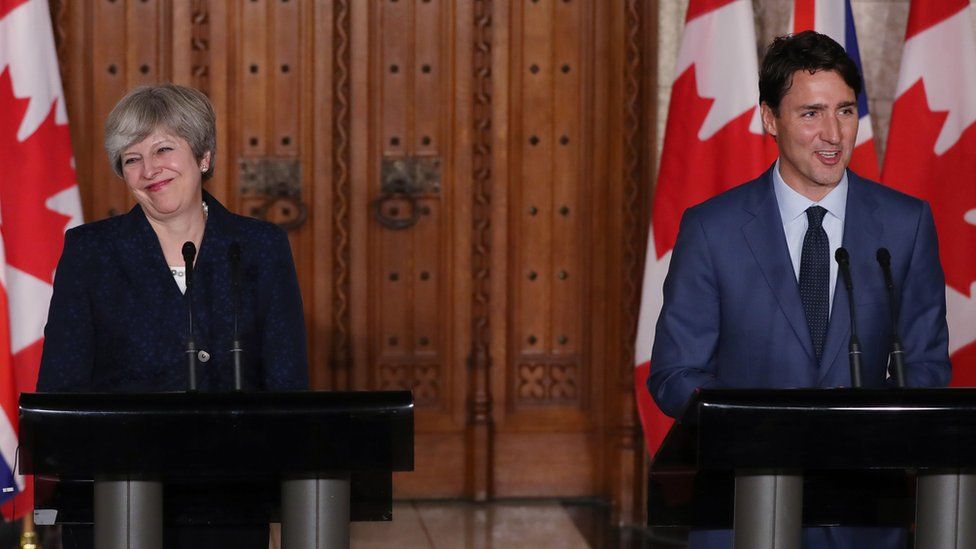 Prime Minister Theresa May has said she expects a "seamless transition" to a new trading relationship with Canada after the UK leaves the EU.
She is in Ottawa ahead of a new trade deal between the EU and Canada coming into effect on Thursday.
Mrs May's trip is also focused on a trade dispute that could threaten aerospace jobs in Northern Ireland.
She has previously lobbied the US about the row involving Canadian firm Bombardier and Boeing.
Boeing has complained about alleged anti-competitive practices in the sale of Bombardier's CSeries jet - and Bombardier, which employs 4,500 people in Belfast, could face significant financial penalties if the US trade authorities find against it.
Mrs May hopes the upcoming trade deal between Canada and the EU, the Comprehensive Economic and Trade Agreement (Ceta), will be a model for a bilateral trade deal for when the UK is excluded from Ceta after Brexit.
Mrs May said: "We have agreed today that Ceta should be swiftly transitioned to form a new bilateral arrangement between UK and Canada after Brexit...
"We want to ensure that when we leave the European Union, for businesses and people, that change is as smooth and orderly as possible.
"And working on Ceta as becoming the first of the bilateral trade relationships between the UK and Canada that means that seamless transition can take place."
Mrs May said there would be a new working group to prepare the groundwork for a separate deal.
Under EU membership rules, the UK is prohibited from implementing a foreign free trade agreement until it leaves, so has instead set up working groups abroad, including with Japan, the US and Australia.
The UK-Canada bilateral trade relationship is thought to be worth £15.2bn a year, while Britain is the second-biggest destination for Canadian investment abroad, with £1.75bn invested in the country since March.