Sir Ed Davey accuses Conservatives over police cuts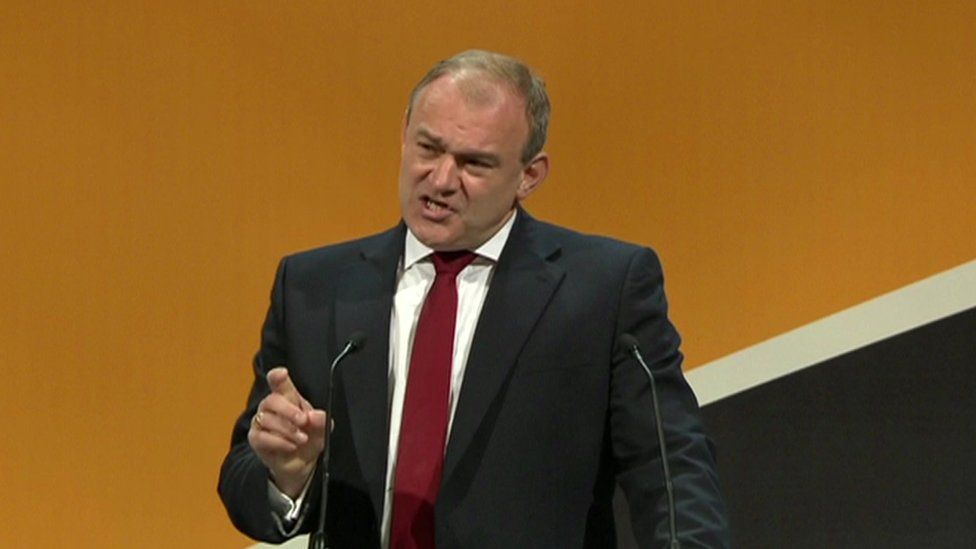 Sir Ed Davey has accused the Conservatives of a "dereliction of duty" by cutting police numbers.
In a speech to the Liberal Democrat party conference in Bournemouth, he said: "I'm afraid the Government has been making some serious errors."
Sir Ed also said the fight against terrorism was one more reason why the UK should stay in the European Union.
And he criticised plans to increase security services' surveillance powers by weakening encryption online.
The Lib Dem home affairs spokesman, who was a cabinet minister in the coalition government, made his remarks at the start of a debate on how to defeat terrorism while also protecting civil liberties.
He noted that this year there had been more terror attacks - five - in Britain than for 20 years and said: "To take police numbers in England and Wales to record lows when the terrorist threat to our country is rising is a dereliction of duty by the Conservatives."
Prime Minister Theresa May has said that money for counter-terrorism has been protected and that it is not only police numbers, but the powers given to officers which are important.
But Sir Ed urged the Liberal Democrats to back the case for more community police officers, saying they formed part of the intelligence-gathering effort.
More party conference stories:
Last week the government published a position paper, stating that the UK was offering a "deep security partnership" with the EU on terrorism, cyber-crime and illegal immigration.
The government fleshed out its plans on Monday, proposing a security treaty between the UK and the EU to provide a legal basis for ongoing co-operation after Brexit.
Sir Ed said: "With Brexit the very best deal they can get is worse than what we've got now."
During the coalition years, the Liberal Democrats clashed with their Conservative partners over plans to give the security services enhanced surveillance powers.
He said: "Liberal Democrats have defended people's civil liberties against attempts by Conservative and Labour home secretaries to snoop into people's private communications for over two decades.
"Let us give the security services the powers they need to go after the people they suspect, but when Theresa May wanted powers to snoop on everybody, Nick Clegg was absolutely right to stop her."
The Liberal Democrats are also calling for an end to the Government's anti-terrorism programme, Prevent. Their alternative is called Engage, which they say is more "community-based".
Lord Paddick, the Lib Dem home affairs spokesperson in the House of Lords, said Prevent had become "toxic" with many Muslims believing it unfairly targeted their communities.