A Liberal Democrat leader's battle for attention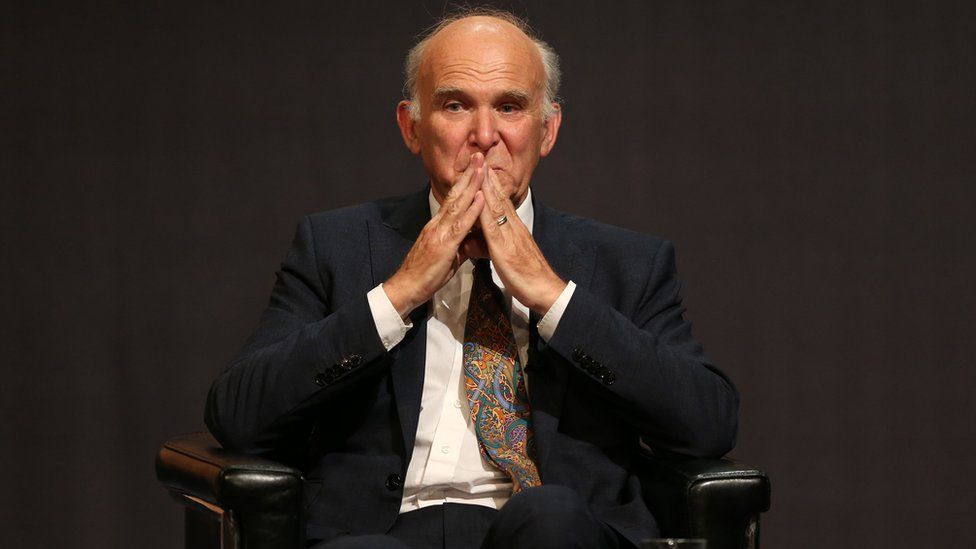 Sir Vince Cable's problem is crystallised at Prime Minister's Questions in the Commons.
He doesn't get much of a look-in.
Theresa and Jeremy have crossed swords, senior backbenchers on the government and opposition sides have spoken, the SNP's Ian Blackford has had his two questions, and then finally, as the session extends well beyond its once-normal half hour, with MPs drifting from the chambers to bag an early place in the canteen queue, the leader of the Liberal Democrats is called.
A bully pulpit it's not. A single question at the fag end of an extended PMQs is not a commanding position from which to address the nation.
But, in parliamentary terms, this is as good as it will get for Sir Vince.
With just 12 MPs, his party is no longer entitled to more than a minimal slot at PMQs, and comes well down the pecking order in all the other parliamentary occasions, too. Worse, MPs seldom see the need to hang around to listen to what it has to say.
Outside Westminster, the same problem is manifest.
The start of Liberal Democrats' conference week was overshadowed by Boris Johnson's Brexit eruption. The end of the week will be dominated by Theresa May setting out her vision of Brexit in Florence.
Sir Vince's speech was even blown off 24 hour news by President Trump's appearance at the UN.
That's showbusiness. So how does a fourth party leader gain that most precious of political commodities - attention?
His predecessor, Tim Farron, never quite managed it, either in the Commons or outside.
A Lib Dem leader, typically, has to spend the first couple of weeks of a general election campaign introducing themselves to voters, who may not even be aware of their existence.
Mr Farron spent those vital days side-tracked into discussing his evangelical Christian views on gay sex. After that his moment was lost.
Can I commend to Sir Vince a possibly unwelcome role model: David Owen?
Having refused to join in the SDP's merger with the Liberals, and more recently having backed Brexit, the Doctor is not remembered with affection in Lib Dem circles, but bear with me.
In the mid-1980s, he kept the SDP, with just six MPs, in the national spotlight by sheer force of personality.
He offered a combination of eye-catching ideas and a shameless "anytime, anyplace anywhere" willingness to appear on the media, plus (and this is critical) he always had something interesting to say.
Sir Vince has many of the ingredients necessary to repeat this performance. Like Dr Owen, he has few visible means of political support - but he does have a level of public recognition as a former cabinet minister, and from his appearance on Strictly.
More important, he has the credentials to speak on the big issue of the day, and be listened to. In the 1980s, as the Cold War moved towards its end, Dr Owen could speak about the nuclear balance of terror and relations with the Soviet Union.
Post-referendum, Sir Vince can speak, with the authority of a former business secretary, about the implications for industry of the UK's future relations with the EU.
And more than that, as an ex-member of the coalition cabinet, he knows the key players in the Conservative government and can find the pressure points in their internal debate on Brexit.
The parallels don't end there. With no internal rivals in his party, Sir Vince has considerable freedom of action - so he has a lot of room to be as pungent and as radical as he wants.
He can be a bruiser. His wounding zinger to then Prime Minister Gordon Brown, noting his transformation "from Stalin to Mr Bean", was one of those rare parliamentary put-downs that did real damage.
Speeches like this one can matter.
Lib Dem insiders believe Nick Clegg's resignation speech in 2015, with its robust defence of liberalism, helped attract thousands of new members. They hope that if their new leader finds the right words, that could happen again.
Sir Vince's deadpan Yorkshire delivery is probably better suited to one-liners than 10-pagers, and he did indeed offer some effective-looking one-liners.
His speech also offered policy nuggets to groups of voters such as greens, pensioners and internationalists.
But to reach their target audience, he needs an effective social media presence - so one of his key tasks will be to assemble a team capable of putting his message across online.
Was it wise to revisit the coalition and student debt? Sir Vince worked hard to exorcise the ghosts of the coalition era in general, and the policy U-turn on student tuition fees in particular, but he was the minister who proposed the coalition's tuition fee increase to the Commons, and reminding people of it may simply bring a fading issue back to mind.
His calculation must be that the Lib Dems' electoral rivals will certainly remember, and are bound to throw tuition fees at him.
Plus, some of the Commons constituencies the Lib Dems hope to gain or regain are university seats - hence the section about his work with the National Union of Students to find a way forward on student finance, and hence his proposal to "support all young people in future with an endowment or learning account, which they can use at any stage in life… helping to finance further or higher education, either at the post-18 stage or later in life".
He also toyed with replacing the existing loan scheme with some form of graduate tax.
The central theme was his opposition to Brexit.
As the Lib Dem USP, it didn't work - much - at the last election. But Sir Vince is doubling down and continues to offer voters "an exit from Brexit" via a referendum on the final deal with the EU.
He delighted his conference by describing the Brexiteers as "silly public schoolboys reliving their dormitory pillow fights".
And his money quote - "We will be denounced as traitors and saboteurs... but if the definition of sabotage is fighting to protect British jobs, public services, the environment and civil liberties, then I am a proud saboteur," - positions his party to capitalise if the government (or Labour) stumbles or splits over Brexit.
That is the big strategic judgement, or maybe gamble, in this speech, whatever else it has to say about housing, green issues or President Trump.
Sir Vince's signature has appeared on a number of Commons amendments to the EU (Withdrawal) Bill from Conservative Remainers and Labour's active pro-EU faction.
I doubt he anticipates a flock of defections from either side - but he has shown he's willing to co-operate across party lines, and in the long term that may widen cracks in Tory and Labour unity.
But it is also telling that there is not much sign of MPs from elsewhere signing Lib Dem amendments at the moment - and if the truth be told, the diminished strength of the Lib Dems would provide a rather fragile lifeboat for any pro-EU Conservative or Labour MPs.
If there is indeed to be an "anti-Brexit people's liberation front", it is a long way from materialising.
Building on his much-mocked comment that he could yet be prime minister, he ended his speech with the hope that his party could once again challenge for a place in government.
For that to happen he also needs luck. Consistent success in council elections is all very well, but he really needs a run of by-elections in winnable Commons seats to show that the Orange Army is back in the game.