Theresa May to make 'open and generous' offer to EU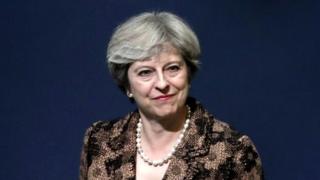 Number 10 has been as tight-lipped as ever as the days tick down to the PM's Italian adventure.
The whole Cabinet is yet to see her entire Florence speech, there may well be a few edges that get smoothed off this morning. Political speeches do tend to be drafted, drafted, redrafted, and then redrafted again, often right up until the genuinely last minute.
But one Cabinet minister who is familiar with its contents told me it will certainly "not be an empty speech", it won't be flavourless fudge.
It will represent instead an "open and generous offer" to the EU that the government hopes can unlock the Brussels talks.
That seems to be code for a promise that no other country will lose out before we leave - in other words Britain will fill the cash black hole in the current EU budget that our departure will create.
We are one of the biggest contributors to the EU pot, so leaving dents the planned financial arrangements if we just go and take our cheque book with us.
If that is the promise that is roughly to the tune of £20bn, although it would be surprising if Theresa May named a figure herself - it's not her style and any actual numbers will be subject to far-off negotiations.
But in terms of the bill, that could just be the start of it. Plugging the hole in the current budget doesn't deal with what the EU sees as our long-term obligations - whether that's diplomats' pensions or our share of money that's been loaned to other countries.
It might, however, be the beginning of something - it would assure other EU leaders their voters won't have to pay more or lose out in the short-term.
But some ministers are still nervous and believe the UK has to be cautious about giving up any cash without strict guarantees of what we get in return.
One told me we can't give it up easily because, in reality, "it's our only leverage".
That's why in the beginning, the UK had hoped for parallel talks about the financial arrangements and how we work together in the future.
Proper nerds may remember the thrilling title of that argument - "parallelism versus sequentialism" - which David Davis promised would be the argument of the summer.
But the talks didn't go that way and are stuck with a political problem - as one official said "we won't pay up until they talk the future and they won't talk the future until we pay up".
Theresa May hopes to poke a crack in that brick wall tomorrow.
But despite all the furore around this speech, it is the EU side which will decide if it is enough.