Labour's route to power: More or less radical?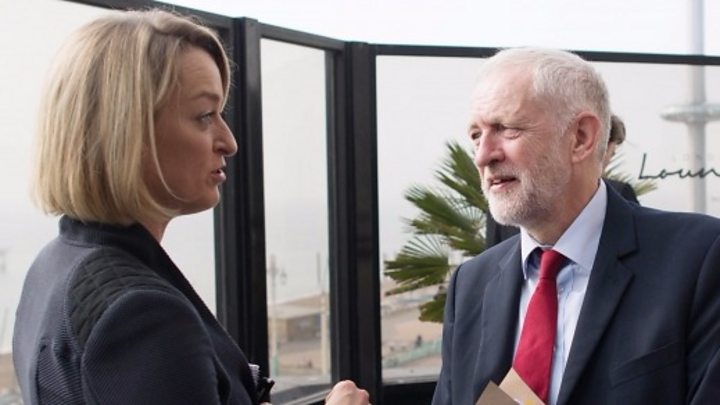 Even before John McDonnell told activists last night in Brighton that Labour had to prepare for the possibility of a run on the pound if they win the next election, however unlikely, there was a question drifting around the Labour conference this week.
Labour made huge progress in June, but didn't win, however buoyant they feel this week. How radical should they be next time round? Would victory be secured by being more, or less radical? There are different answers to that question and different answers among senior MPs.
There's huge energy and excitement among Jeremy Corbyn's supporters here. The shadow chancellor's bold promise to bring PFI contracts back into public control was given a rapturous reception on the conference floor.
But then this morning, the shadow health secretary, Jon Ashworth suggested that perhaps there is only a problem with a "handful" of the contracts, and that they could be renegotiated, rather than taken back into public control.
It's only one policy area, but it does sum up the quandary. How radical should Labour really be? Would they win the next time if they move further to the left, be even bolder than many of Mr Corbyn's backers would desire? Or as one member of the shadow cabinet suggested to me yesterday, they have to put pragmatism first.
There's a risk, they said, that the "Corbynistas all get carried away with themselves". Should it be more, or less?
The election showed that in some parts of the country, particularly in London and in university towns with large populations of young people, Mr Corbyn's left-wing credentials had huge appeal.
But a study by John Healey, the shadow housing minister, outlines the next big challenge. Labour can't just win in big cities, they have to reach other parts of the country, and other demographics. Healey's analysis shows that Labour gets to govern when they win in the 16 New Towns dotted around England - constituencies like Milton Keynes, Stevenage, Bracknell, Corby - the list goes on.
In 1997 they won all but one of the New Towns. By 2010 they held only one, Telford. As Healey writes, "the New Towns are a lens to give a fine-resolution focus on Labour's big electoral challenge in Middle England".
Their concerns, he says, are "immigration, the economy and competence". Having talked to Labour activists in those towns, he found that while Labour picked up support from young people, they had to do more for what's described as "stable families and older voters".
There was concern that "Labour has become a party that represents the London boroughs only". One supporter in a focus group said "Labour has to position itself as the party that understands and will deliver on working class aspirations" while another said "this manifesto was perceived as a bit of a 'free-for-all' with many self employed and small business owners sceptical".
Most revealingly perhaps, Labour activists said, "white working class voters feel Labour has become young, idealist and cosmopolitan".
Those "young, idealistic and cosmopolitan" voters are in huge evidence here this week and gave Labour a dramatic bounce at the election. And it's Mr Corbyn's radical policies that pulled them in. But those voters in New Towns described in Healey's report, genuine voices of Middle England, are still hesitant.
Labour has made progress but many MPs believe they can't win convincingly if they pursue 'more', not 'less'. Perhaps the challenge for Mr Corbyn and Labour now is to live by his slogan, and create policies that talk to the many, rather than the comparative few.