Labour: Len McCluskey says party does not have anti-Semitism issue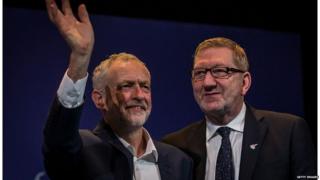 Labour does not have a problem with anti-Semitism, Len McCluskey has said, suggesting those who believe it does are seeking to undermine Jeremy Corbyn.
The Unite leader told the BBC that he had never heard anti-Semitic language at any party meeting he had attended.
Claims the leadership was condoning anti-Semitism, racism and misogyny were designed to "bring Jeremy Corbyn down".
His comments came shortly after members voted to back new rules to tackle claims of anti-Semitism in the party.
The Jewish Labour Movement (JLM) is demanding action over what it says was the use of an "anti-Semitic trope" in the conference hall at Brighton. It is calling for "zero tolerance" of such comments at the event.
Asked whether he recognised suggestions that Labour still had a problem with anti-Semitism, Mr McCluskey said any attacks on Jewish people would get "short shrift" at any meeting he attended.
"No, I've never recognised that. I believe it was mood music that was created by people who were trying to undermine Jeremy Corbyn," he told BBC Newsnight.
"In 47 years of membership in the Labour Party I've never been at a meeting where there was any anti-Semitic language."
Asked why it had become an issue of growing concern within the party, he added: "Unfortunately at the time there were lots of people playing games, everybody wanted to create this image that Jeremy Corbyn's leadership had become misogynist, had become racist, had become anti-Semitic and it was wrong."
'Festering'
Earlier on Tuesday, Labour members voted to back a tightening of the party's rules against "racism, anti-Semitism, Islamophobia or otherwise racist language, sentiments, stereotypes or actions, sexual harassment, bullying or any form of intimidation towards another person".
During the debate, Labour peer Lord Dubs claimed Mr Corbyn's initial slowness to act against anti-Semitism had allowed it to "fester" in the party.
The peer, who escaped the Nazis on a Kindertransport from Prague in 1939 at the age of six, said the Labour leader was now dealing with it.
The Board of Deputies of British Jews welcomed Labour's rule change. Its chief executive, former Labour MP Gillian Merron, said the need for robust action was "particularly important after the ugly scenes we have witnessed during this conference".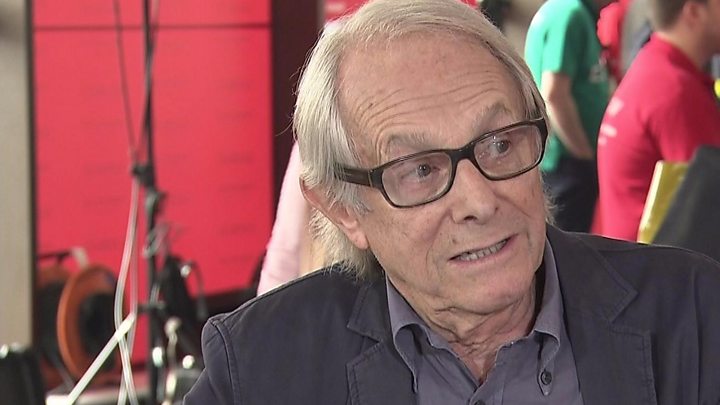 But some delegates have suggested the new rule amounted to an attempt to police "thought crime".
Naomi Wimborne-Idrissi, of the Free Speech on Israel group, said she was concerned that it made reference to the "holding of beliefs" as opposed to expressing them.
She told delegates the Jewish Labour Movement would have "a bit more credibility" if it "didn't spend so much of its time running to the Daily Mail and Daily Telegraph with stories".
At a fringe event later on Tuesday, JLM chair Jeremy Newmark said her remarks - which were applauded by some in the hall - accusing Jews of colluding with the right-wing media amounted to anti-Semitism.
He said he expected the conference arrangements committee to "take action against that delegate who levelled an anti-Semitic trope against our vice chair (Mike Katz) on conference floor", as part of a commitment to creating "an atmosphere of zero tolerance of anti-Semitism" at the event.
Warren Morgan, Labour leader of Brighton and Hove City Council, has written to the party's general secretary, Iain McNicol, demanding "reassurances that there will be no repeat of the behaviour and actions we have seen this week before any further bookings from the party are taken".
'Principled stand'
Gideon Falter, chairman of the campaign Against Antisemitism praised Mr Morgan's "principled stand" after reports "from Jewish delegates that they feel uncomfortable being Jewish at the conference".
Brighton and Hove Labour Party is currently suspended by the national Labour Party, following a separate row.
Labour's deputy leader Tom Watson has reportedly promised to launch an investigation into how it gave a platform at a conference fringe event to a speaker who said people should be allowed to question if the Holocaust happened.
Film maker Ken Loach has, meanwhile, told the BBC's Daily Politics he had been attending Labour meetings for 50 years and had "never in that whole time heard a single anti-Semitic word or a racist word".
He added: "It is funny that these stories only appeared when Jeremy Corbyn became leader isn't it?"
The director, who recently rejoined the Labour fold after supporting rival left-wing parties, said such reports had arisen because Mr Corbyn "has been a long-time supporter of the Palestinians and the injustice that has been done to them".
Asked about Labour MPs who have raised concerns about anti-Semitism, he said: "I think their aim is to destabilise Jeremy's leadership".