Poll tracker: Concern rises over handling of Brexit talks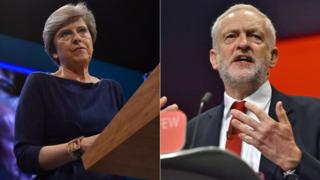 After a pause for the Labour and Conservative party conferences the next round of opinion polls is hotly anticipated.
They will be closely scrutinised in an attempt to gauge whether the problems that beset Theresa May's speech have any impact on how the public perceives her. And whether any of the parties have been able to attract new supporters with their conference policy announcements.
A first post-conference poll from YouGov suggests little has changed in terms of voting intention but May's personal ratings might have taken a hit. But there are several more to come over the next few days which should give us a clearer picture.
Throughout the summer, the Westminster voting intention polls were remarkably stable. Labour did not quite retain the level of support they had immediately after the general election but on average they held on to a narrow lead over the Conservatives.
There was no perceptible movement for the smaller parties either.
On leader satisfaction, Theresa May's rating improved a little. She still has a negative rating, meaning more voters disapprove of her or think she's doing a bad job than the opposite, but it has become a bit less negative. Opinium, Ipsos MORI and BMG all show a small improvement.
And on the question of who would make the best prime minister, Mrs May has restored her lead over Jeremy Corbyn. Polls from YouGov, Opinium and Ipsos Mori all put the Labour leader behind by a gap of about 7-10% - although this lead has shrunk in YouGov's post-conference poll.
Brexit split
Despite some over-excited headlines, there's no clear evidence of a major shift in opinion about Brexit - at least in terms of whether people think the 2016 vote to leave was right or wrong, or how they'd vote in the event of another referendum.
Over a period of many months there may have been a very slight shift in favour of remain. But the overall picture is that the country is still pretty much split down the middle.
Where there has been movement is in the public's perception of how the government is handling Brexit negotiations.
After Theresa May's Lancaster House speech in January, YouGov and ORB reported a marked increase in the number of people who said the government was doing well.
By the time the general election was called a majority of respondents approved of the government's performance on this issue.
Since the election, that trend has undergone a sharp reverse.
In their latest poll, YouGov found that 61% of respondents thought the government was doing badly compared to only 21% who thought it was doing well. With "don't knows" removed, ORB reported 36% of people approving and 64% disapproving.
As Professor John Curtice has pointed out, May's Florence speech has not had the same effect as her earlier one.