Green Party conference: Brexit and Grenfell Tower on agenda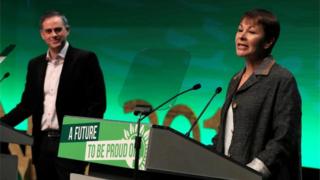 The Green Party of England and Wales will debate issues ranging from climate change to staying in the EU single market, at its annual conference.
Party members will gather at Harrogate on Saturday for the four-day event.
Like the Lib Dems, SNP and UKIP, the Greens saw their vote share fall in the 2017 general election, as 82% of voters backed the Conservatives or Labour.
The party got 1.6% of the vote, down on the 3.8% it got in 2015, although it retained its Brighton Pavilion seat.
The party's co-leader Jonathan Bartley, who will give a speech on Monday, said the Greens would say "things others won't" - including on Brexit.
"When there is an establishment consensus on leaving the single market, we'll say that's incompatible with ending austerity," he said. "We're at a turning point - and we need to be asking big questions about our future."
Among topics being discussed at the conference are the Grenfell Tower disaster and council accountability and what Brexit means for the environment.
The Greens have a single seat at Westminster - Brighton Pavilion, which has been held by co-leader Caroline Lucas since 2010 - and three MEPs.
It has built strong pockets of local support in cities such as Norwich, Oxford, and Bristol but failed to make hoped-for breakthroughs there in June.