Minister to review law on illegal Gypsy and traveller sites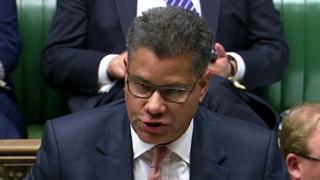 The government is to review the effectiveness of laws designed to tackle illegal encampments set up by travellers and Gypsies.
It will also look at whether planning legislation is properly enforced against unauthorised developments built by members of travelling communities.
In a Commons debate, some MPs said constituents believed there was one law for travellers and one for the rest of society.
Others warned against prejudice.
Communities Minister Alok Sharma said everyone aspired to "peaceful and integrated communities" but people must be treated equally under the law.
"Within the settled community the view is that if they were flouting the law in the same way as a small percentage of Gypsies and travellers they would be treated more harshly by the authorities," he told MPs.
MPs from across the UK, particularly the Midlands and South-East and South-West of England, claimed illegal sites were on the increase, along with the anti-social behaviour they said was associated with them.
Human waste
Ian Austin, Labour MP for Dudley, said he had no criticism of the "law-abiding majority" of travellers but parks and community facilities in his constituency were being damaged by illegal encampments every summer.
"Some of the sites have been left with huge amounts of rubbish and waste. In some cases, unbelievably, human waste in children's play areas," he said.
"I think this is completely unacceptable and I want the police and the council to be able to deal with these sites much more quickly."
Labour MP Geoffrey Robinson claimed illegal encampments had doubled in five years in his Coventry constituency and "action not words" was needed from the government.
James Duddridge, Conservative MP for Rochford and Southend East called for a "three strikes and out rule".
"If they park on council land or private land more than three times, can we give police the power to take those assets and sell them for the good of the community and clear up some of the mess it's left behind?"
'Nomadic' lifestyle
Labour's shadow housing minister Tony Lloyd urged people not to "stigmatise" those from the traveller and Gypsy communities, who he said faced the highest levels of prejudice and discrimination.
Labour's Kate Green, MP for Stretford and Urmston, warned that prejudice against Gypsies and travellers had become "the last respectable form of racism" and their communities faced serious health and education problems.
Her Labour colleague, Laura Pidcock, the new MP for North West Durham, accused some of the MPs taking part in the debate of "judgemental snobbery" against people with a "nomadic" lifestyle.
Mr Sharma said he had reflected on the views expressed by MPs.
"I can therefore announce that the government intends to consult on the effectiveness of enforcement against unauthorised developments and encampments.
"And we want to seek views on whether there is anything that would ensure existing powers can be used more effectively.
"But let me be clear, this is not a signal to local authorities and the police that they should wait for the outcome of such a consultation - they have the powers to act and we expect them to act."