Bercow: Three week conference break is a 'palaver'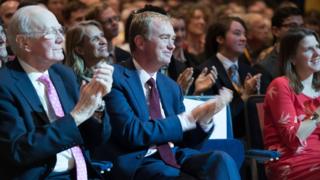 Party conferences staged by the Tories, Labour and the Lib Dems should take place over the course of a weekend, Commons Speaker John Bercow has said.
He called it "extraordinary" that MPs leave Westminster for the "palaver" of conference season each autumn.
Mr Bercow also raised the prospect of cancelling the summer recess if extra time was needed for lawmaking.
Conference recess allows the Tories, Labour and Lib Dems to hold four-day gatherings every autumn.
MPs returned to Westminster on Monday.
Mr Bercow's comments, first reported by Politico, came during a question and answer session at the Hansard Society.
There is a "certain incongruity about members disappearing for three weeks a year from their primary workplace in order to attend the conferences of voluntary organisations", he said.
The Speaker said party conferences "could perfectly well take place over a weekend".
"The idea that we are justified in taking weeks off, just after we've come back from the summer recess, so we can go through this palaver, strikes me as extraordinary," he added.
Mr Bercow argued that for almost three months - virtually a quarter of the year from mid-July to mid-October - the Commons only sits for two weeks.
Party conferences take place in venues around the country outside London.
Prime Minister Theresa May, the cabinet, Conservative MPs and around 12,000 delegates and exhibitors descended on central Manchester for the party's annual conference from Sunday, October 1 to Wednesday, October 4.
Could MPs trigger recall?
According to Visit Manchester, increased demand for accommodation, restaurants, bars and transport across the city boosted the city's coffers by £30m.
Labour's gathering in Brighton ran from Sunday, September 24 to Wednesday, September 27 while the Lib Dems' conference in Bournemouth ran from Saturday, September 16 to Tuesday, September 19.
Mr Bercow also told the Hansard Society that MPs should be able to trigger a recall of Parliament if there is a major crisis while the House is not sitting.
Under current rules, only the government can seek a recall of MPs to Westminster while Parliament is in recess.
The Speaker said one option could be for a petition of recall to require the backing of at least a quarter of the 650 MPs, with at least a quarter of those being government supporters and a quarter from the opposition.
"This would ensure both a degree of balance and a testing threshold for a recall bid to cross," he said.
"The House at the end of the day belongs to all of its members and not the minority of it who occupy ministerial office.
"I think the case for at least a debate in this space is overdue - and I hope that it will happen shortly."
Commons Leader Andrea Leadsom said the idea that backbench MPs could recall Parliament was "very interesting" and "one I'm sure we'll hear more about - and I shall certainly be listening".