UK farmers will 'grow more food' if no Brexit deal - minister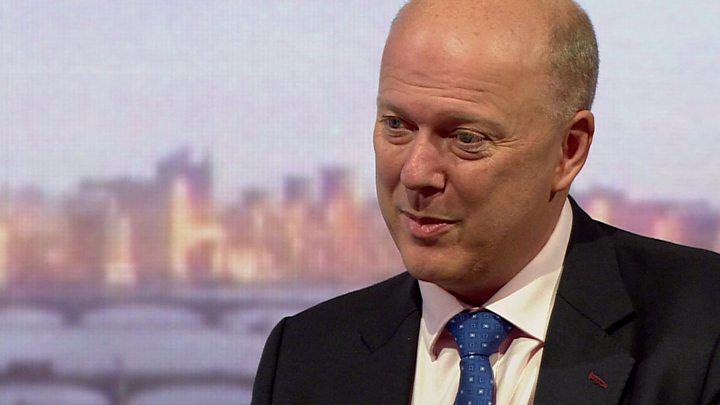 British farmers would produce more food themselves in the event of the UK leaving the EU without a trade deal, a cabinet minister has suggested.
Transport Secretary Chris Grayling was responding to industry claims that food prices could rise sharply in the event of a no-deal Brexit.
If this happened, he said the UK would respond by "growing more here and buying more from around the world".
Labour said his comments amounted to telling people to "dig for no deal".
The National Farmers Union has argued Brexit is an opportunity to "reverse the downward trend" in the UK's self-sufficiency in food but insisted this should not be done by "closing off markets".
Mr Grayling's comments comes amid fresh warnings from supermarket bosses that the UK leaving the EU in March 2019 without at least the outline of a future trade partnership would be bad for British consumers.
Sainsbury's chairman David Tyler told the Sunday Times that a no-deal Brexit could result in an average 22% tariff on all EU food bought by British retailers.
The British Retail Consortium has said this could translate into a minimum 9% rise in the cost of tomatoes, 5% for cheddar and 5% for beef, while warning the figures could actually be much higher.
Agricultural products are one of the UK's most important exports while the UK sources roughly 70% of the food it imports from the EU, leading to claims that items could "rot" at the border if there are hard customs checks or supply chains are disrupted after Brexit.
Given the UK's importance to farmers across Europe, Mr Grayling said it was not in their interests to see an outcome which resulted in higher costs and new obstacles to trade.
"You may remember the brouhaha over the Walloon farmers when they objected to the Canadian trade deal. I had a look to see who their biggest customer was - it was us," he told the Andrew Marr Show on BBC One.
"We are the biggest customers of the Walloonian farmers - they will be damaged if we don't have a deal."
But if the UK ended up without a deal, which would see it default to World Trade Organization (WTO) rules, Mr Grayling suggested domestic producers and retailers would respond by rethinking their sourcing.
"What it would mean would be that supermarkets bought more from home, that British farmers grew more and that they bought more from around the world," he added.
"What we will do is grow more here and buy more from around the world but that will mean bad news for continental farmers and that is why it will not happen - it is in their interests to reach a deal."
The British Retail Consortium said maintaining tariff-free trade with the EU during a post-Brexit transitional period was vital to preventing the UK facing potential tariffs straightaway of up to 40% on some beef and dairy products under WTO rules.
The trade body, which recently published research on the subject, acknowledges forecasting the consequent impact on food costs is complex and a range of other factors would have to be taken into account.
But it said there was a risk that domestic producers could put up their own prices to increase their competitiveness and if this happened, the cost of items like tomatoes could rise by up to 18%, broccoli by up to 10% and cheddar by a maximum of 32%.
A spokeswoman said that while retailers could review their buying policies in the medium to long term to adjust, it was "very unrealistic to expect farmers to make up the surplus of produce straight away".
The NFU has said the UK's ability to feed itself has stagnated and if the country relied entirely on home-grown produce, the cupboard would look bare after about seven months.
Labour said farmers, as much as anyone, wanted to avoid a "cliff-edge" departure from the EU.
"Rather than planning for no deal, ministers appear to be telling us to dig for no deal," said shadow Brexit minister Jenny Chapman. "British farmers already work incredibly hard and to suggest that they could simply grow more food is ridiculous."