Parliament investigates report of falling masonry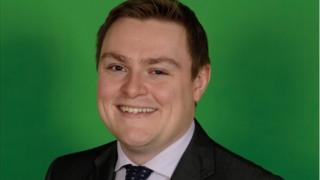 Part of the Parliamentary estate was cordoned off on Thursday after reports that masonry had fallen from part of a building, smashing a car window.
Conservative MP Will Quince tweeted a picture of the car, parked outside Norman Shaw North building, near the Palace of Westminster, on Thursday.
"Evidence of why Parliament needs urgent repair," he tweeted. "Imagine if this had hit someone. Unthinkable."
A Commons spokesman said they were investigating "as a matter of urgency".
The main entrance to Grade I listed Norman Shaw North - a red brick building near the Palace of Westminster - has been closed for the time being while the parliamentary authorities try to find out what happened.
Mr Quince's fellow Conservative MP Mims Davies tweeted: "Absolutely shocking! Very glad nobody was very seriously injured."
But he later removed the picture from his Twitter feed, saying he had been instructed to do so by the Serjeant-at-Arms "for security reasons", despite him cropping out the background.
Repair work is currently being carried out on the Elizabeth Tower, which houses Big Ben and various other parts of Parliament.