Theresa May doesn't go home from EU summit empty-handed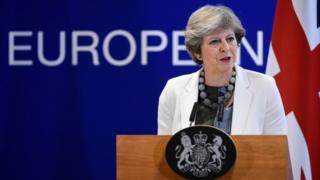 It's not "no", "non" or "nein".
Instead, it's definitely maybe.
It's taken seven months to get this far. But as expected, Theresa May's appeals to EU leaders in the last few weeks have had some impact.
They agreed this morning that they will start getting ready for talks about our long term relationship with the EU, and how the transition, or implementation phase, as it's known in Whitehall, will work.
It is not what the original UK government plan was - that this autumn the EU would get on with working out the big picture.
But it means that Theresa May does not go home empty-handed.
At her press conference this morning she was able to hail progress.
But by agreeing to talk about talks, this tricky process has only moved forward a couple of inches in a journey of many many miles.
And there are still big questions - how much are we willing to pay, how closely aligned do we want to be with the EU in the future?
How will the Conservative Party and the cabinet manage to get to a common place on their ambitions for Brexit when there are such internal divisions?
This summit has seen progress, yes, but progress of a sort, and in Theresa May's own words, rather underestimating the situation, "there is some way to go".