Labour demands changes to Brexit repeal bill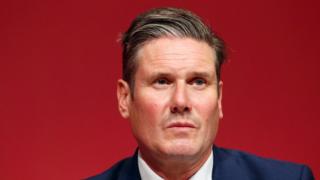 Labour will back Conservative rebels over Brexit unless the prime minister accepts changes to its repeal bill, the party's shadow Brexit secretary says.
Sir Keir Starmer wants six changes to the bill, which aims to transfer EU legislation into British law.
If these are not accepted Labour will back Tory rebels in an attempt to force a vote on the final EU deal, he said.
The government said it would listen to MPs about possible improvements to the bill but would not let it be "wrecked".
Reality Check: Why Brexit transition may not buy time
Brexit deadlock talk 'exaggerated' - Tusk
EU mood music improves on Brexit bargaining
'Consensus for changes'
The loss of the government's Commons majority in the June general election means a relatively small revolt by Conservative MPs could derail the legislation.
Hundreds of amendments to the bill have already been tabled by Tory rebels, as well as opposition MPs.
Writing in the Sunday Times, Sir Keir said the government had withheld the legislation from the House of Commons for two weeks running because it fears defeat on at least 13 amendments at the hands of Tory rebels.
He said it was "clear" that ministers could not proceed with the bill as it stands and threatened to "work with all sides" to get his changes made - unless ministers adopted them and end the "paralysis".
Sir Keir demanded that:
MPs get the "final say on whether to approve the withdrawal agreement and how best to implement it"
The transition period requested by Prime Minister Theresa May is added into the legislation
A "completely different approach" to the use of powers the government argues are needed to make technical changes to regulations from Brussels
A guarantee that workers' and consumer rights, as well as environmental standards, are not watered down after Brexit
A concession to devolved administrations who want repatriated powers that would normally fall under their remit to go straight to Scotland, Wales and Northern Ireland, rather than the Westminster government first
Putting the EU charter of fundamental rights into UK law
The shadow Brexit secretary wrote: "I believe there is a consensus in Parliament for these changes.
"And there is certainly no majority for weakening rights, silencing Parliament and sidelining the devolved administrations.
"There is a way through this paralysis.
"Labour will work with all sides to make that happen."
Sir Keir's intervention comes days after EU leaders agreed to begin scoping work on trade talks.
But they also made clear Britain must make further concessions on its divorce bill to unlock talks on a future trading relationship.
Brexit Secretary David Davis will travel to Paris for Brexit talks on Monday after France appeared to emerge as the most hardline EU member state on the exit bill.
The prime minister is due to update the Commons on Monday on the progress made during the summit on Thursday and Friday.
Mrs May is expected to say that while negotiations on Brexit are "deeply technical" she has never forgotten that millions of people are at the heart of the process and they remain her "first priority".
She will also say that the millions of European citizens living in the UK make an "extraordinary contribution" to our society and that "we want them to stay".
A government spokesman said the repeal bill was "essential" to deliver on the result of the referendum while ensuring the maximum possible legal certainty for businesses and citizens.
The UK is due to leave the EU in March 2019, following last year's referendum result.