PMQs: Theresa May and Jeremy Corbyn clash on tax avoidance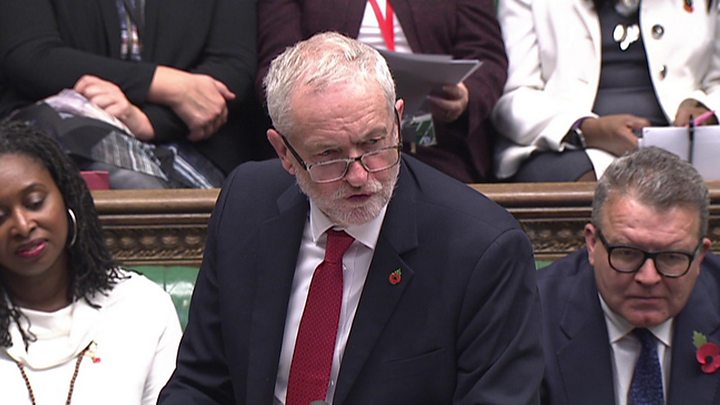 Theresa May has defended her record in tackling tax avoidance as she clashed with Jeremy Corbyn in the Commons.
The Labour leader said the fact the super-rich were paying less in tax now than in 2009 showed there was "one rule for them and one rule for the rest".
He urged the PM to look into imports of private jets in the Isle of Man which he said could be used to dodge tax.
Mrs May said an extra £160bn had been raised since 2010 and the top 1% were paying more in tax than ever before.
During Prime Minister's Questions, she insisted the UK was "leading the world" in efforts to clamp down on tax-dodging and Revenue and Customs would continue to close down loopholes where they found them.
Mr Corbyn referred to documents about global tax practices, reportedly leaked from a law firm in Bermuda, which he said were being compared in some quarters with the disclosures in the 2016 Panama Papers.
He urged Mrs May to launch an investigation into VAT avoidance allegations linked to what he said was the unusual proliferation of business jets in the Isle of Man.
'A bit excessive'
The Labour leader said 957 corporate jets imported to the Isle of Man "seems a bit excessive for any island anywhere", adding he hoped due tax is collected by those trying to avoid it.
He told MPs the then Labour government intervened in 2010 via HMRC to shut down an Isle of Man scheme used to import yachts into the European Union as a way of avoiding tax.
"A similar scheme has recently been exposed relating to the import of business jets into the Isle of Man," he said. "So can the prime minister assure the House that HMRC investigates these new allegations diligently?"
Mrs May assured Mr Corbyn that Revenue and Customs takes "seriously" allegations of tax avoidance which are referred to it and that it was the agency's "job" to collect more tax.
She said: "We've secured almost £160 billion in additional compliance revenues since 2010 through a number of measures that we have taken to ensure we clamp down on tax evasion and avoidance."
The Isle of Man government launched a review last week into the practice of importing business jets, saying it "is imperative that we take steps to defend the Isle of Man's position".
Chief minister Howard Quayle said it had no evidence at this stage of any wrongdoing in terms of VAT payments and made clear that the Isle of Man followed the same rules and policy as the UK government.
More broadly, the Labour leader said Tory MPs voted against tighter rules on beneficial ownership in the Commons on Tuesday but Mrs May said it was her predecessor David Cameron who had first put the issue on the G20's agenda in 2013 and accused Labour of blocking tax avoidance measures ahead of the general election.
The BBC's political editor Laura Kuenssberg told Daily Politics Mr Corbyn had used the issue to "have a go" at the government on an issue he regarded as his "home turf".
But she said the tit-for-tat exchanges had generated more heat than light and it remained to be seen whether Mr Corbyn had more specific information connecting the leaked reports to the UK.