Labour suspends Luton North MP Kelvin Hopkins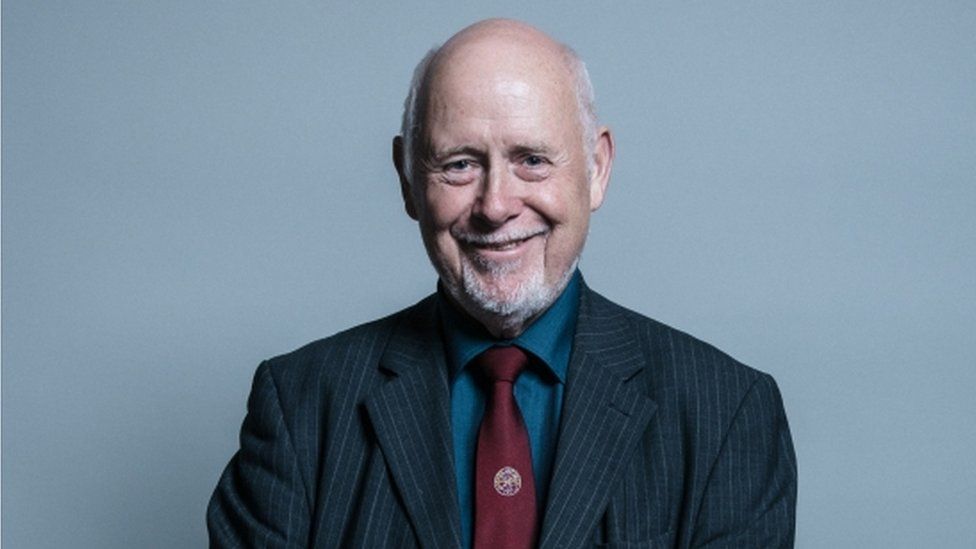 Labour has suspended an MP after it was alleged he sexually harassed a party activist three years ago.
Luton North MP Kelvin Hopkins, 76, has not commented on the claims, which were published in the Telegraph shortly after his suspension was announced.
The woman involved, Ava Etemadzadeh, 27, said he had sent her inappropriate text messages and made inappropriate physical contact while hugging her.
Mr Hopkins has had the whip withdrawn while an investigation takes place.
A party spokesman said Labour "takes all such complaints extremely seriously and has robust procedures in place".
Ms Etemadzadeh told the Telegraph that she met Mr Hopkins in 2013 and invited him to speak at a Labour event at Essex University in 2014, when she was 24, after which, she told the newspaper he had hugged her too tightly and made inappropriate contact.
She visited Parliament at his invitation in February 2015 but said later that month he sent a suggestive text message. Having taken advice from another Labour MP, she said she took a complaint about him to Labour's whips office in December 2015.
It is understood that at the time, Mr Hopkins was spoken to about why his behaviour was inappropriate and was reprimanded by the then chief whip Dame Rosie Winterton.
But he went on to be promoted, albeit briefly, to Labour's front bench in June 2016 - shortly after leader Jeremy Corbyn faced mass resignations following the EU referendum.
Sources suggested Labour whips advised the leader's office not to promote him because of what happened. The leader's office say that is not the case.
Ms Etmadzadeh said she was frustrated that he had been promoted but when she complained to the chief whip, she was told she could not take action while remaining anonymous.
She told the BBC: "I was shocked to learn that he got promoted afterwards.
"I'm disillusioned by the party not just not doing anything, but then promoting him afterward. They ignored it."
Labour MP for Luton North since 1997
Spent most of 20-year political career on backbenches
Briefly promoted to front bench from July to October 2016
Long history of involvement with trade union movement
One of 36 MPs to nominate Jeremy Corbyn for his 2015 leadership bid
One of the few Labour MPs to campaign for Leave in the EU referendum
Married to Patricia. The couple have two grown up children
The BBC has been told that Ms Etmadzadeh had a meeting with the chief whip on Thursday.
There has not yet been any comment from Mr Hopkins - who is married and has been Luton North MP for 20 years - despite repeated attempts to contact him.
Labour MP Jess Phillips told BBC Radio 4's Today programme Mr Hopkins should probably not have been promoted.
But she added: "I don't think that it was sort of political expediency; I think that people just didn't take it as seriously as it needed to be taken."
Labour Leader Jeremy Corbyn declined to answer questions from reporters about Mr Hopkins's promotion on Friday morning.
The suspension comes amid various claims of sexual harassment and improper behaviour in Parliament.
Sir Michael Fallon quit as defence secretary on Wednesday night, saying his conduct may have "fallen short" of the standards expected by the UK military.
In another incident, Labour confirmed it had launched an independent inquiry into claims that activist Bex Bailey, 25, was discouraged by a party official from reporting an alleged rape at a Labour event in 2011. Party leaders have vowed to tackle discipline and grievance procedures.