Harriet Harman urged to apologise for 'staggering judgement error' over joke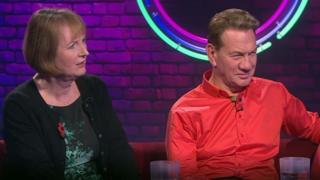 Harriet Harman has been urged to apologise for repeating an offensive joke about the Holocaust on BBC TV.
The Labour MP read out the joke as an example of one she had complained about some years ago.
The Jewish Leadership Council said it was a "staggering error of judgement" to repeat it "irrespective of the point she was trying to make".
Ms Harman later tweeted that it was "no laughing matter" and such jokes "perpetuate discrimination & hatred".
The former Labour deputy leader appeared on BBC One's This Week programme and repeated the joke in a segment about humour which offends people.
'Offensive and hurtful'
Referring to a story she recounts in her memoir A Woman's Work, she said: "I've long been accused of being humourless, and a humourless feminist, and I'll give you two examples that I protested about, because they were offensive and hurtful."
She annoyed host Andrew Neil by saying: "People like Andrew say that things like this are perfectly all right."
She was cut short by Mr Neil after telling the first joke - which she said was "not funny" - and the presenter reprimanded her for suggesting he would think it was OK.
He later told the Labour MP to "be quiet".
The chief executive of the Jewish Leadership Council Simon Johnson said: "I cannot recall being so disappointed in a politician. Harriet Harman must surely know better than to repeat a vile Holocaust joke, irrespective of the point she was trying to make. She must apologise and do so quickly. It is a staggering error of judgment."
'Appalled'
Mr Neil later tweeted that he was "appalled and even a little bit upset by what she said".
He said: "What was wrong was 1) Even to tell that so called joke on live TV. 2) Claim I would like the joke. Appalling on both counts."
Ms Harman has not apologised but on Twitter she said that anti-Semitic jokes were "no laughing matter".
She tweeted a page from her book, in which she recounts two offensive jokes that appeared in a Guy's Hospital rag magazine years ago, which she went on to refer to the Director of Public Prosecutions.
In her book, she wrote that she had been condemned "for overreacting and being humourless".
But, she added, "the Jewish community and local black and Asian organisations were deeply appreciative when the hospital apologised".
Ms Harman was offered support by Labour shadow minister Chi Onwurah, who said: "I remember those kind of jokes in 1980s Imperial College rag mag. Very isolating for minority/female students like me. Good on you, Harriet."