Blair agreed 'second term' exit before Granita dinner says Brown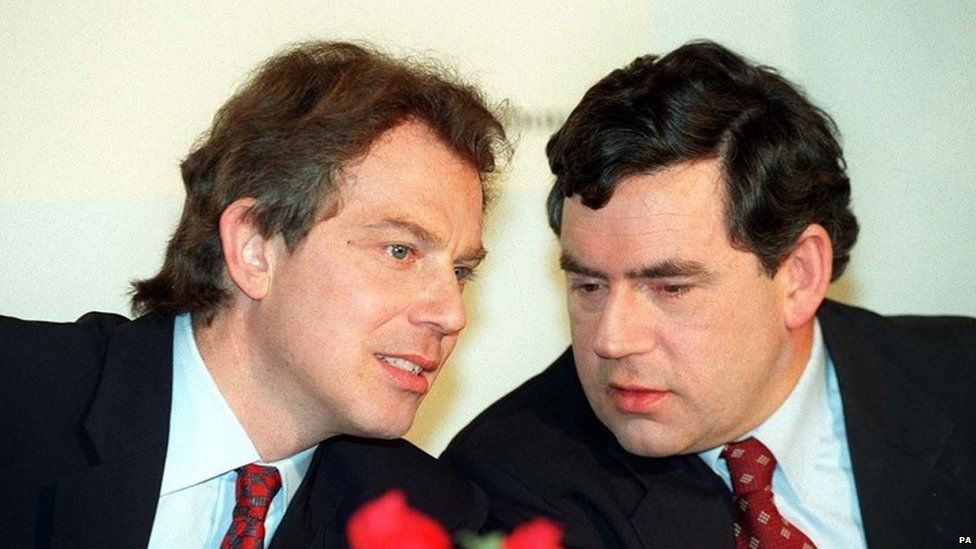 Gordon Brown says Tony Blair told him in person before a famous 1994 dinner he would one day hand power to him.
In his memoirs, Mr Brown says there was "a private but explicit understanding" Mr Blair would make way for him in his second term in office in return for him not contesting the Labour leadership.
Their so-called "Granita pact", a reference to the London restaurant they dined in, has entered Labour folklore.
Mr Brown says the deal was already done and the meal only "rubber-stamped" it.
Mr Brown did ultimately succeed Mr Blair as prime minister in 2007, a decade after Labour first won power, although allies of his have long accused his predecessor of breaking a promise to stand down much earlier.
The circumstances which led Mr Brown not to challenge for Labour's leadership after John Smith's sudden death - effectively paving the way for Mr Blair to take the crown - have long been the subject of speculation.
The then shadow chancellor was regarded by many in the party as Mr Smith's obvious successor although he opted not to put his name forward, leaving Mr Blair to defeat John Prescott by a large margin.
Mr Brown announced his decision to sit out the contest the day after the two men met at the Granita restaurant in Islington, North London, in 31 May.
Granita, a once trendy venue near Mr Blair's then home, closed in 2003.
In his memoir My Life, Our Times, which is published on Tuesday, Mr Brown says the importance of the Granita dinner - which was dramatised in Channel 4 show The Deal - was over-stated, suggesting an agreement between the two men had effectively been agreed a fortnight earlier and the meal was a mere "formality".
"I always smile when commentators write that we hammered out a deal in the restaurant," he writes.
"The Granita discussion merely confirmed what he had already offered and I had already agreed".
Two weeks earlier, he said Mr Blair had assured him that he would have control over economic and social policy in a future Labour government and he had specifically "promised" to serve one full term in office if Labour won power at the subsequent election.
Mr Blair, he says, told him he had family reasons for only wanting to serve a limited time in Downing Street.
"He wanted to be free from day-to-day politics to be with his children in their teens - the time of life when parents are most needed. It was a promise he repeated on several occasions."
Mr Brown says he decided to accept his colleague's assurances and clear the way for Mr Blair as he was "unwilling to see the party divided in a way that would endanger the prospects for reform".
The only major development at the Granita meal, Mr Brown claims, was Mr Blair's talk of the two men forming a partnership that would represent a "new departure for British politics" and his assurance that a future Labour government, unlike its Tory predecessors, would not be a "one-man band".
However, Mr Brown says tensions between the two men and their allies quickly surfaced about how his leadership announcement would be presented and whether the two men should take part in a joint photocall as a demonstration of unity.
Mr Brown remarks that he was soon "frozen" out of Mr Blair's leadership campaign, setting the tone for years of difficult relations between the two men as prime minister and chancellor between 1997 and 2007.
"Long into the future, the focus of the 1994 leadership race would wrongly remain on what was said at Granita, he writes.
"The restaurant did not survive and ultimately neither did our agreement."