Labour: Priti Patel must face probe or quit over Israeli trip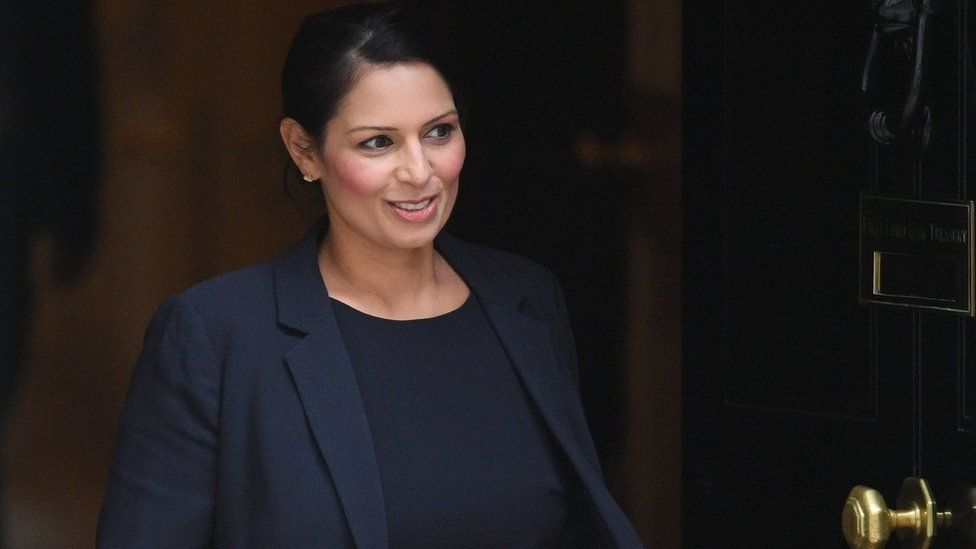 Priti Patel must be investigated for holding unofficial meetings during a holiday in Israel or "do the decent thing and resign", Labour has said.
The international development secretary apologised on Tuesday for holding 12 meetings, including one with Israeli PM Benjamin Netanyahu, on a private trip.
In the Commons, Labour's Kate Osamor said it was a "black and white case" of the ministerial code being broken.
But minister Alistair Burt said policy did not change as a result of the trip.
Ms Patel was not in the Commons to face an urgent question about her actions because she is on a pre-arranged visit to Africa, a situation which Labour said was "simply not acceptable".
The BBC understands Ms Patel suggested some of Britain's aid budget go to the Israeli army, after the visit in August.
She asked her officials to see if Britain could support humanitarian operations conducted by the Israeli army in the occupied Golan Heights area.
The BBC understands the Foreign Office advised that because Britain did not officially recognise Israel's annexation of the area, it would be hard for the Department for International Development to work there.
Speaking in the Commons, Foreign Office minister Alistair Burt defended Ms Patel's "perfectly legitimate" right to raise the matter - saying it was within the context of providing medical help for Syrian refugees who could not get assistance in their own country.
But he said the idea had been rejected because ministers did not think it would be "appropriate".
He told MPs that the Foreign Office learned of her visit on 24 August, while she was still in Israel, but after a number of key meetings had already taken place.
He said Ms Patel had been "absolutely contrite" for "getting the sequencing wrong" in terms of informing officials but Mrs May accepted her apology and now regarded the matter "as closed".
But Labour's Kate Osamor said Ms Patel's actions were covered by the existing code and demanded a probe into what she did during the trip and what action she sought upon her return.
The opposition says there are "strong grounds" to believe Ms Patel is responsible for "multiple breaches" include failing to act in an open and transparent manner, not abiding by the principle of collective responsibility and not being honest about the nature and number of meetings she attended.
"It is hard to think of a more black and white case of breaking the ministerial code," Ms Osamor said.
"It is time the secretary of state either faces a Cabinet Office investigation or does the decent thing and just resigns".
The BBC's diplomatic correspondent James Landale said local UK diplomats in Israel probably first became aware of her visit on 24 August because that was when the opposition leader she met, Yair Lapid, first tweeted about their meeting.
The BBC revealed on Friday that Ms Patel held a number of undisclosed meetings with business and political figures, including Mr Lapid, the leader of Israel's centrist Yesh Atid party.
No diplomats were present at the meetings, at which the minister was accompanied by an influential pro-Israeli Conservative peer and campaigner, Lord Polak.
Ms Patel has admitted how the meetings were set up "did not accord with the usual procedures".
Former Conservative foreign secretary Sir Malcolm Rifkind told BBC Radio 4's Today programme that it was "extremely unwise" for Ms Patel to have held secret meetings with Israeli officials.
"Not only did she not tell the Foreign Office directly, so far as I'm aware the British Embassy in Israel wasn't aware that this was happening. Now that just shouldn't be done... it's not just a question of courtesy," he said.
Lord Ricketts, former head of the diplomatic service, told BBC Radio 4's World Tonight that he couldn't think of a precedent "where a senior minister visits a country, has an extensive programme like this without the Foreign Office, the foreign secretary or even the ambassador in the country knowing about it".
However International Trade Secretary Liam Fox told BBC Radio 4's Today programme that it was not "in any way forbidden" to speak to the prime minister of another country without telling the foreign secretary.
He added: "I find it utterly unsurprising that the international aid secretary would want to talk to charities while she's on holiday in a particular area about whether or not we can use the British aid budget to diminish the humanitarian problems there."
Ms Patel, who is a long-standing supporter of Israel and a former vice-chairman of Conservative Friends of Israel, has admitted a "lack of precision" for suggesting last week that Boris Johnson knew about the trip, and that only two meetings had taken place when she attended 12.
Downing Street, which has called for the ministerial code to be clarified in this area, said Ms Patel had acknowledged she had behaved in an "improper way" and would not do so again.