Mobile phone tracking data 'could replace census questions'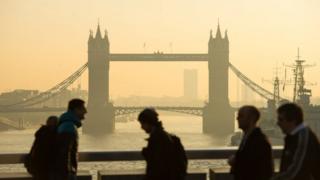 Thousands of people have had their movements tracked by the Office for National Statistics to see if they can find out where they live and work.
The ONS is trying to build up a picture of people's daily commute - something it normally asks about in the census.
Mobile phones create a record of every location visited by the user if the phone is switched on.
Statisticians believe the data, which is anonymised, could one day replace census questions in England and Wales.
But it admitted it would need to carry out "extensive evaluation" of "privacy impacts" if it went down that route.
'Children's mobiles'
The experiment was carried out using data from subscribers to the Vodafone mobile phone network. It was restricted to subscribers aged over 18 and did not include people who use pay-as-you-go phones.
It tracked where phones were overnight, to work out where users lived, and where they travelled during the day, which was assumed to be their place of work.
It focused on three London boroughs - Lambeth, Southwark and Croydon - and looked at how far people travelled to work during a four week period in March and April last year.
It painted a slightly different picture to the 2011 census, with more people appearing not to leave their home borough on their daily commute.
Some of this might be down to students, who may have been "mistakenly inferred as commuters as their movement behaviour will be similar", the report said.
"It's also likely that some parents will take out subscriptions for their children's mobiles," said the report, so in future "children of secondary school age and in higher education might therefore also be included".
Final census?
The mobile data underestimated some commuter flows, such as the number of people travelling into Lambeth every day.
The study may have failed to indentify commuters with "non-standard work patterns, such as night or shift workers; depot workers and those on zero-hours contracts" or those that were ill on holiday, the report said.
The ONS is now asking for feedback to decide whether the new system will be rolled out more widely.
The government and local authorities use this kind of census household and working patterns data to plan housing developments and transport networks.
The census has been carried out every 10 years since 1801, with the exception of 1941, to provide a snapshot of the size of the country's population and details about how people live and work.
But the government wants the next census, in 2021, to be the final one to be carried out using the traditional paper-based questionnaire method.
It has asked the Office for National Statistics to explore how it can get the information it needs from alternative sources.