Penny Mordaunt: Reshuffle maintains cabinet's Brexit balance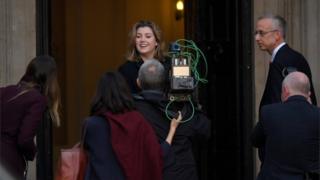 Choosing ministers is about more than just who is best for the job.
There are good reasons why Penny Mordaunt has been promoted to the Department for International Development.
She has worked in humanitarian aid, she has been a minister in two different departments, former colleagues rate her abilities and she was tipped last week to be elevated to running the Ministry of Defence.
She has slipped up at times, in the EU referendum campaign, for example, she claimed that the UK wouldn't be able to veto Turkey's future membership of the EU and was properly told off by David Cameron.
But there is a lot more to her than meets the eye, and a lot more that is interesting about her than going on TV in a swimsuit, although no doubt, for many voters, that is the way they will have come across her before.
Precarious balance
She also has a different political qualification - she was prominent campaigning Brexiteer.
By promoting her, rather than others, Theresa May has opted to preserve the precarious balance around the cabinet table.
There has been an almost equal split, not so much between those who were tagged as Leavers or Remainers in 2016, but the two sides of the argument now - those who want a future closely tied to the European Union and those who want a much looser arrangement.
In Whitehall's technical lingo it's now known as "high or low alignment".
Swing voters
And by keeping the balance roughly 50-50, disregarding what one cabinet minister described as the "swing voters" - those like Sajid Javid, Liz Truss and Jeremy Hunt who are not considered to be dogmatic on the issue - it means that in effect, Theresa May has the decisive vote.
In theory that allows her, in a position with little authority, to be able to tip the balance relatively easily in either direction when the big Brexit decisions have to be made.
Time for that is clearly pressing, with Brussels giving the UK only a couple of weeks to show movement, in particular on the Brexit bill.
It's not clear if the UK will feel able to move forward on the bill that soon - that is a difficult debate to come.
The very limited changes to government today however won't obstruct the path of those decisions.
Ms Mordaunt has a sense of humour, and is far from a political drone - but her appointment is also about Theresa May trying to quietly hold the current cabinet equilibrium together.
With this appointment, after the eight days of turmoil, the prime minister is not looking for drama.
PS: It's worth noting too, that the first MP from the Tories' 2015 intake was brought into government today.
Victoria Atkins so far has stood out in Westminster for saying that people thought President Trump was a "wazzock". Let's see what she has to say next!