PMQs: Universal credit families risk Christmas eviction, says Corbyn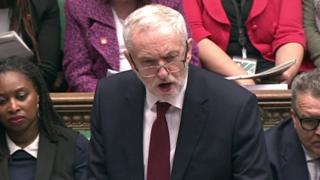 Hundreds of families have been issued with eviction notices by a landlord concerned about the impact of universal credit, Jeremy Corbyn has claimed.
The Labour leader, speaking at Prime Minister's Questions, said the families, in Lincolnshire, risk losing their homes over Christmas.
He urged Theresa May to "pause" the rollout of the controversial benefit while problems with it are fixed.
Mrs May said rent arrears had fallen by a third over the past four months.
But she would look at the case he had raised, adding that she had still not received details from him about a previous universal credit case he had raised at a past Prime Minister's Questions.
The exchange came amid unconfirmed reports that the standard six-week waiting time for claimants to receive their first universal credit payment is to be reduced by at least a week.
Sky News reported that it could be lowered to a month depending on how successful efforts were to speed up the time taken to process payments.
Speaking in the Commons, Shadow Work and Pensions Secretary Debbie Abrahams called for a government statement on the subject, saying it was "an affront" to MPs and the public that nothing had been done since the government was defeated on the issue of universal credit rollout in an opposition day debate last month.
Labour claims the families in North East Lincolnshire have received the "Section 21" notices from a property firm ahead of next month's rollout of universal credit in the area.
Such notices give tenants notice that they may be evicted without further warning during a six month period.
'Cruel and unrealistic'
Mr Corbyn said the letter said the property company "cannot sustain arrears at the potential levels universal credit could create".
"Will the prime minister pause universal credit so it can be fixed or does she think it is right to put thousands of families through Christmas in the trauma of knowing they're about to be evicted because they're in rent arrears because of universal credit?"
Universal credit, which merges six benefits for working-age people into one new payment, is being rolled out across the UK in stages but its implementation, particularly the six-week wait, has caused controversy.
MPs are set to debate proposals for a maximum monthly wait for recipients on Thursday on a backbench motion brought by Labour's Frank Field, which commands cross-party support.
Mr Field, chair of the Commons Work and Pensions select committee, warned the government faced defeat again, which he said would send a "clear signal" ahead of next week's Budget.
"The baked-in wait for payment is cruel and unrealistic and government has not been able to offer any proper justification for it," he said.
The Department for Work and Pensions says universal credit will boost employment by about 250,000 once it is fully rolled out.
A spokeswoman said: "Under universal credit, people are moving into work faster and staying in work longer than the old system."