Brexit divorce bill: Reality Check asks what's happening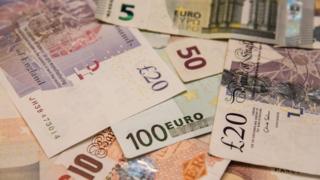 We need to talk about the Brexit divorce bill, known officially as the financial settlement.
Until "sufficient progress" is made in deciding how it should be calculated, Brexit negotiations between the EU and the UK won't move on to discuss the outlines of a future relationship covering trade, security and so on.
What is the bill for?
The EU says the UK needs to settle its accounts before it leaves. It says the UK has made a variety of financial commitments that have to be settled as part of an overall withdrawal agreement.
The UK accepts that it has some obligations. And it has promised not to leave any other country out of pocket in the current EU budget period from 2014-20.
But the devil lies in the detail.
So how much is it?
That rather depends on who you ask.
OK, how much does the EU want?
Well, at this stage they don't want to put a figure on it. They recognise the political sensitivity of this issue in the UK.
What they do want is agreement on a fairly precise method for calculating the bill. In other words, an agreement on what should be included.
The EU argues that the UK has to pay in full its share of money that has been committed in budgets but not yet spent. This is the so-called Reste a Liquider. As of September 2017, it was running at about 239bn euro (£213bn). In theory that produces a UK share of roughly 30bn euro (£27bn).
There are also other investment projects in less developed regions of the EU on which work is only due to begin after the UK has left the EU. But the EU says the UK has already promised to help fund these projects. EU officials say that could amount to more than 20bn euro (£18bn) added to the UK bill, although this figure has not been officially published.
Then there are long-term commitments such as pension contributions for EU staff. The pension bill could be roughly 10bn euro (£9bn), depending - crucially - on how you calculate it.
Another long-term commitment is contingent liabilities - loans which have to be guaranteed (but which should eventually be repaid to the UK) to countries like Ukraine and Ireland. Contingent liabilities amount to 11.5bn euro (£10bn).
And how much is the UK willing to pay?
Less than that.
The UK has already said it will pay budget contributions amounting to about £18bn (20bn euro) in 2019 and 2020. That meets its commitment to ensure that no other country is out of pocket in the current seven-year budget.
It also coincides fairly neatly with the transition period it wants to be put in place for about two years after Brexit. If such a transition is agreed, the UK would be required to make budget contributions anyway, so this was a relatively easy offer to make.
The UK has also said it will "honour commitments" made during its membership of the EU, and it is going through the EU's suggestions line-by-line.
There are several ways in which the bill could be reduced:
The UK will argue that it should pay a lower percentage of total EU commitments (reducing it from 13% to 12%, for example, would save billions of pounds).
The UK thinks it is fair to calculate its pension liabilities in a different way, and that could reduce the bill considerably.
The UK will want to limit payments it makes for projects that begin after it has left the EU.
The UK insists that if it is responsible for its share of EU commitments, then it must be entitled to its share of EU assets as well. Some EU countries, including Germany, argue that the assets belong to the EU as a whole and not to individual member states.
When does this need to be sorted out?
As soon as possible.
The European Council President Donald Tusk said that he told Theresa May in their meeting today that progress needs to be made by the beginning of December at the latest.
There have been hints that the UK is prepared to pay considerably more than it has offered so far in order to get talks moving. After all, far more money is at stake in the future of trade relations than in the size of the withdrawal agreement.
A lot depends on what Theresa May meant in her speech in Florence when she first said that the UK would "honour commitments" it made during its membership. That now needs to be discussed in detail between the two negotiating teams.
So the clock really is ticking?
Yes.
But in the end, the final decisions about the financial settlement will not be technical or legal ones. They will have to be political ones.
---