Animal welfare: Theresa May promises to improve standards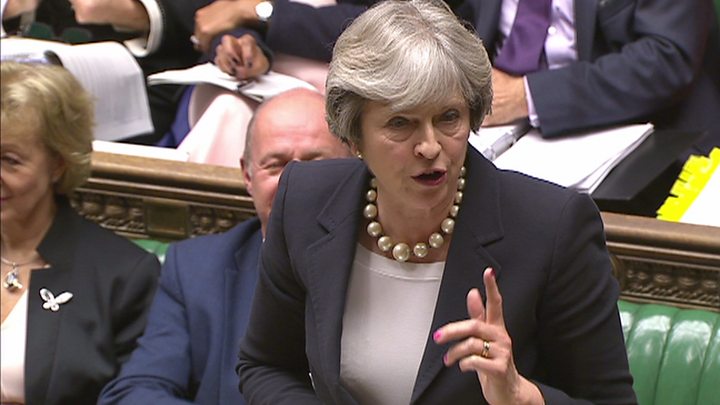 Theresa May has promised to "maintain and improve" animal welfare standards in the UK after Brexit.
MPs voted this week not to write part of an EU treaty recognising animals as "sentient beings" that feel emotion and pain into the EU Withdrawal Bill.
But speaking at Prime Minister's Questions, Mrs May said the Animal Welfare Act 2006 protected animals.
She said more action was being taken on animal welfare, such as plans for tougher sentences for animal cruelty.
She also highlighted government proposals to introduce mandatory CCTV in slaughterhouses, ban micro beads and tackling the ivory trade.
Campaigners including farming charities and presenter Ben Fogle had criticised the government after MPs rejected an amendment to the EU Withdrawal Bill that would have transferred the EU recognition of "animal sentience" into UK law.
The RSPCA's David Bowles told Farming UK it was a "truly backward step" for animal welfare.
"It's shocking that MPs have given the thumbs down to incorporating animal sentience into post-Brexit UK law," he said.
"In the EU, we know that the recognition of animals as sentient beings has been effective in improving animal welfare across the region.
"If the UK is to achieve the environment secretary's objective of achieving the highest possible animal welfare post-Brexit, it must do the same."
But responding to a question from Conservative MP Fiona Bruce, the prime minister said on Wednesday the government "recognised and respected" that animals are sentient and that they "should be treated accordingly".
"We already have some of the highest animal welfare standards in the world and, as we leave the EU, we should not only maintain but enhance those standards," she told the House of Commons.
"The Animal Welfare Act 2006 provides protection for all animals capable of experiencing pain or suffering, but I reaffirm... that we will be ensuring that we maintain and enhance our animal welfare standards when we leave the EU."