UK law 'to recognise animal feelings'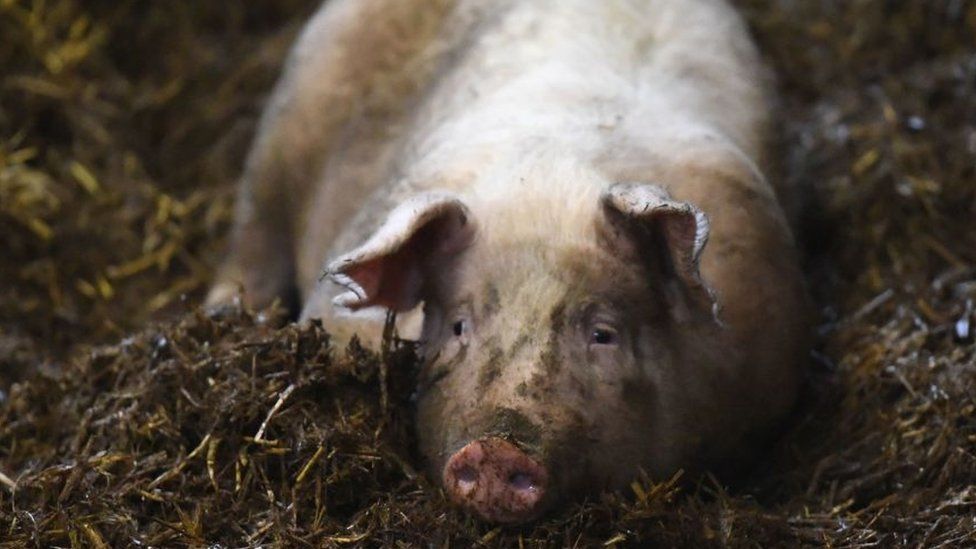 Ministers are considering how to amend UK law to recognise animal sentience after Brexit, Michael Gove says.
The environment secretary also said leaving the EU would allow the UK to crack down on puppy smuggling and the live export of animals for slaughter.
Last week MPs voted not to incorporate part of an EU treaty recognising that animals could feel emotion and pain into the EU Withdrawal Bill.
This sparked protest petitions and a celebrity-backed social media campaign.
Reacting on Twitter, TV presenter Ben Fogle, who had been among those to criticise the government, said Mr Gove's announcement had brought "clarity at last".
Green Party co-leader Caroline Lucas tabled the amendment to the EU bill, which would have transferred the EU protocol on animal sentience - the ability to experience feelings - into domestic law.
Ms Lucas had raised concerns that the current regulations risked dropping out of UK law by accident after Brexit.
But ministers said recognition of animals' sentience already existed in UK law and MPs rejected the amendment.
Mr Gove said the MPs had simply rejected a "faulty" amendment.
"Voting against the amendment was not a vote against the idea that animals are sentient and feel pain - that is a misconception," he said in a written statement.
But on Twitter Ms Lucas described Mr Gove's statement as "silly".
She said: "If the EU Withdrawal Bill isn't the right place to transfer EU law into UK law, then what is?"
What the government is promising
"The prime minister has made clear that we will strengthen our animal welfare rules," Mr Gove said in his statement.
"This government will ensure that any necessary changes required to UK law are made in a rigorous and comprehensive way to ensure animal sentience is recognised after we leave the EU.
"The withdrawal bill is not the right place to address this, however we are considering the right legislative vehicle."
Mr Gove said the current EU law was insufficient and allowed for "cruel and painful" treatment of animals.
The BBC is not responsible for the content of external sites.
Skip twitter post by Ben Fogle
Allow Twitter content?
This article contains content provided by Twitter. We ask for your permission before anything is loaded, as they may be using cookies and other technologies. You may want to read Twitter's cookie policy, external and privacy policy, external before accepting. To view this content choose 'accept and continue'.
The BBC is not responsible for the content of external sites.
End of twitter post by Ben Fogle
The government's policies are driven by the recognition that animals are sentient beings and "we are acting energetically to reduce the risk of harm to animals, whether on farms or in the wild", he said.
"Once we have left the EU there is even more we could do," he said.
"EU rules prevent us from restricting or banning the live export of animals for slaughter.
"EU rules also restrict us from cracking down on puppy smuggling or banning the import of puppies under six months."
A year ago, a committee of MPs raised concerns that the EU's pet passport scheme was enabling the illegal import of puppies into the UK and called for reform of the scheme to be included in Brexit negotiations.
How campaigners have reacted
Mr Fogle tweeted: "I am happy to apologise and add clarity but I will criticise the confusion that pervaded around 'assumed' sentience within the bill. I don't believe the government communicated well enough."
World Animal Protection welcomed Mr Gove's statement and called for more details, as did Humane Society International UK director Claire Bass.
Ms Bass said: "Acknowledging that animals have the capacity to suffer and feel pain is absolutely fundamental to protecting them from harm, and we need a binding imperative enshrined in UK law that will hold government to account, ensuring that animal welfare is fully taken into account in all UK law and policy-making."
British Veterinary Association senior vice president Gudrun Ravetz said she was "encouraged" but that clarity was needed on how legislation would capture the obligation the EU currently puts on governments to pay regard to animal welfare.