Tim Farron: Christianity is seen as dangerous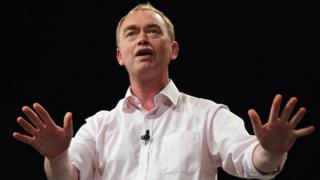 People who are devout Christians are seen as "dangerous" and "offensive" in modern Britain, according to the former leader of the Liberal Democrats.
Tim Farron said the idea that there was a "unifying set of British values" was a "myth".
Mr Farron quit as Lib Dem leader after June's general election, saying that living as a Christian while fulfilling his political role "felt impossible".
He had faced repeated questions about his views on gay sex.
In a speech to the Theos think tank in London on Tuesday evening, the MP for Westmorland and Lonsdale said: "If you actively hold a faith that is more than an expression of cultural identity… you are deemed to be far worse than eccentric.
"You are dangerous. You are offensive."
He admitted he had demonstrated a "lack of wisdom" when he was "batting away questions" about his faith during the election campaign.
But he said people had been "surprised and confused" that a liberal politician could also be an evangelical Christian, contrasting the reaction to that against that towards another MP, Conservative Jacob Rees-Mogg, who says his opposition to abortion and same-sex marriage is shaped by his Catholic faith.
Liberalism "isn't very liberal any more" and "has eaten itself", Mr Farron said, adding that "many who declare themselves to be liberals really aren't".
"People talk about shared values today. But when they do, what they mean is 'These are my values - and I am going to act as though they are also yours, and will demonstrate contempt for you if you depart from them.'"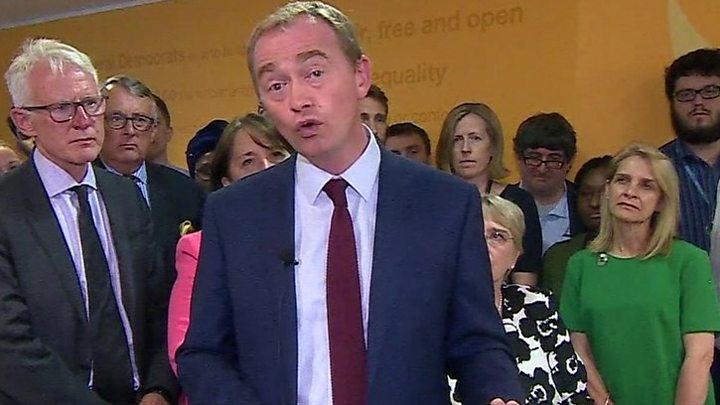 Mr Farron criticised social media too, saying it had been "naive" to think a decade ago the medium would lead to a "greater democracy".
Instead, he said, it had led to "groupthink, pack mentality and depressing conformity", with society "hooked on self esteem and self worth".
"Five minutes on social media will give you a window into a society that condemns and judges, that leaps to take offence and pounces to cause it - liberals condemning those who don't conform as nasty and hateful, the right condemning liberals as fragile snowflakes," he said.
"But Christianity rebukes both sides: don't judge, show kindness, show gentleness, show patience - especially to those who don't deserve it."