Donald Trump wrong to share far-right videos - PM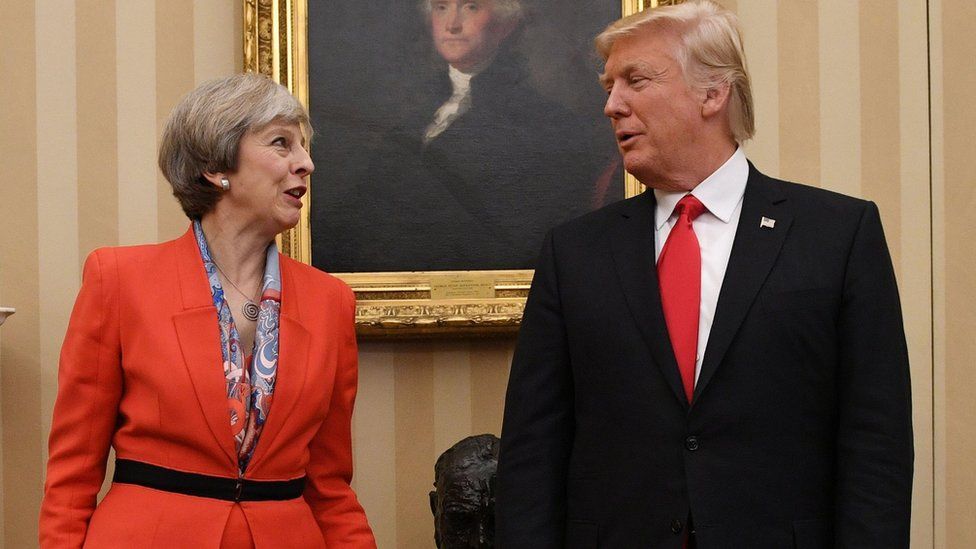 It was wrong for US President Donald Trump to retweet videos posted by far-right group Britain First, Downing Street has said.
Mr Trump shared three posts by the group's deputy leader, including unverified footage purporting to show Muslims committing crimes.
Theresa May's spokesman said Britain First used "hateful narratives which peddle lies and stoke tensions".
Labour's Jeremy Corbyn called the retweets "abhorrent" and "dangerous".
Britain First was founded in 2011 by former members of the far-right British National Party (BNP).
The group has grabbed attention on social media with controversial posts about what it deems "the Islamification of the UK".
It has previously put up members to run in European elections and by-elections on anti-immigration and anti-abortion policies, but has yet to secure any seats.
The first tweet, from deputy leader Jayda Fransen, claims to show a Muslim migrant attacking a man on crutches.
This was followed by two more videos of people Ms Fransen claims to be Muslim.
White House spokeswoman Sarah Sanders said Mrs May and other world leaders knew the videos highlighted "real threats that we have to talk about".
"Whether it's a real video, the threat is real," she added.
However, Mr Trump's tweets - shared with his 43.6 million followers - prompted a wave of criticism in the UK.
Mr Corbyn tweeted: "I hope our government will condemn far-right retweets by Donald Trump. They are abhorrent, dangerous and a threat to our society."
Veteran Tory MP Sir Nicholas Soames said Mr Trump had finally proved he is "wholly unsuited" to the role of president.
Meanwhile, fellow Conservative MP Nadhim Zahawi has written a letter to Mr Trump urging him to delete the retweets
Speaking in the Commons, Labour MP David Lammy accused Mr Trump of "promoting a fascist, racist, extremist hate group".
Fellow Labour MP Stephen Doughty said the videos were "highly inflammatory", while his colleague Yvette Cooper, a former shadow home secretary, said Mr Trump had given Britain First a "huge platform".
Theresa May is currently on an overseas trip, but both Mr Doughty and Ms Cooper asked the home secretary or foreign secretary to make a statement on the government's behalf.
Both declined, but later a Downing Street spokesman said: "British people overwhelmingly reject the prejudiced rhetoric of the far right which is the antithesis of the values that this country represents - decency, tolerance and respect."
He added: "It is wrong for the president to have done this."
Foreign Secretary Boris Johnson later tweeted that Britain First was "a divisive, hateful group", while Sajid Javid, minister for communities and local government, said Mr Trump was "wrong and I refuse to let it go and say nothing".
However, Downing Street made clear the invitation to the US president to make a state visit to the UK still stood, despite fresh calls for it to be rescinded.
The BBC is not responsible for the content of external sites.
Skip twitter post by Boris Johnson
Allow Twitter content?
This article contains content provided by Twitter. We ask for your permission before anything is loaded, as they may be using cookies and other technologies. You may want to read Twitter's cookie policy, external and privacy policy, external before accepting. To view this content choose 'accept and continue'.
The BBC is not responsible for the content of external sites.
End of twitter post by Boris Johnson
The BBC is not responsible for the content of external sites.
Skip twitter post 2 by Sajid Javid
Allow Twitter content?
This article contains content provided by Twitter. We ask for your permission before anything is loaded, as they may be using cookies and other technologies. You may want to read Twitter's cookie policy, external and privacy policy, external before accepting. To view this content choose 'accept and continue'.
The BBC is not responsible for the content of external sites.
End of twitter post 2 by Sajid Javid
Archbishop of Canterbury Justin Welby said it was "deeply disturbing" that Mr Trump had "chosen to amplify the voice of far-right extremists".
"I join the urgent call of faith groups and others for President Trump not just to remove these tweets, but to make clear his opposition to racism and hatred in all forms."
Brendan Cox - whose wife, British MP Jo Cox, was murdered by a right-wing extremist who shouted "Britain first" before committing the act - also condemned Mr Trump.
He told the BBC: "If you look at Trump this isn't a mistake, this is a strategy. He consistently does this.
"He's retweeted people on the far right in the US, he's shared anti-Semitic memes in the past and his whole campaign was based on calling Mexicans rapists and saying he'd ban Muslims from the country.
"I think we have to recognise now... that this is a president who is a purveyor of hate."
Mr Cox said there was "no chance" of Mr Trump now visiting the UK, saying his tweets were the "final nail in the coffin".
Writing for MailOnline, columnist and Good Morning Britain host Piers Morgan said the tweets were "the worst thing" Mr Trump had done as president.
Mr Morgan, a friend of Mr Trump, wrote: "I urge you to immediately undo those three re-tweets, and apologize unreservedly.
"That won't repair the terrible damage you've done. But it will at least acknowledge that you understand just how wrong it was.
"If you don't, we will be left to assume that you too are a hateful Islamophobe and racist."
The BBC is not responsible for the content of external sites.
Skip twitter post 3 by Piers Morgan
Allow Twitter content?
This article contains content provided by Twitter. We ask for your permission before anything is loaded, as they may be using cookies and other technologies. You may want to read Twitter's cookie policy, external and privacy policy, external before accepting. To view this content choose 'accept and continue'.
The BBC is not responsible for the content of external sites.
End of twitter post 3 by Piers Morgan
The Muslim Council for Britain had called on the UK government to "distance" itself from the comments.
"This is the clearest endorsement yet from the US president of the far-right and their vile anti-Muslim propaganda," a spokeswoman said.
Earlier, responding to the president's retweets, Ms Fransen tweeted: "God bless you Trump! God bless America!"
The message was also shared on Britain First's Twitter account.
Ms Fransen was charged with using "threatening, abusive or insulting words or behaviour" during speeches she made in Belfast in August.
She will appear at Belfast Magistrates' Court on Thursday 14 December.
Analysis by Anthony Zurcher, BBC News North America Reporter
Donald Trump is once again using Twitter to weigh in on contentious religious-tinged political issues in the UK.
In the past, he's attacked London Mayor Sadiq Khan, saying he mishandled a militant attack just hours after it occurred. He misattributed a rise in crime in England and Wales to the "spread of radical Islamic terror". Now, he has retweeted a series of unverified videos posted by a far-right British nationalist group.
For the president, directing attention toward the UK seems to serve a domestic political purpose.
He cites events and opinions in the country as a warning to Americans of what could happen in the US if they do not heed his policy prescriptions on immigration and border security. The Muslim ban, the US-Mexico wall, increased deportations, the sharp reductions on refugee resettlement - it's all part of the president's "national security" package.
While most Americans probably haven't heard of Britain First and are unfamiliar with European radical nationalist movements, there are white supremacist groups in the US that follow the actions of these overseas operations quite closely. The president on Wednesday signalled that he watches them too.