Damian Green: PM's university friend and political ally sacked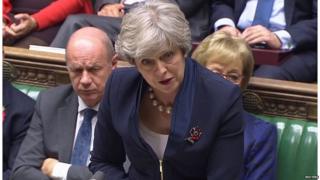 Damian Green was one of the prime minister's closest allies in government. A university friend, he entered Parliament at the same time as Theresa May.
But now he has been sacked from the cabinet after an investigation found he breached the ministerial code.
Mr Green was a leading Conservative figure for 20 years and had been a friend of the prime minister since they were at Oxford university together in the 1970s.
They entered Parliament together in 1997.
Later, he served in the Home Office during the coalition government.
After she became Tory leader in June 2016, Mrs May brought the 61-year old into her cabinet and a year later named him as her effective deputy by giving him the title of first secretary of state.
Since then, the former journalist, who campaigned for Remain in the EU referendum, has been a vital cog in a government beset by divisions and infighting over Brexit.
He has played a substantial role behind the scenes chairing key cabinet committees and, more publicly, deputised for Mrs May at Prime Minister's Questions as recently as last week.
He spent much of his early political career in the backroom, but the MP for Ashford in Kent has twice hit the headlines in a big way over the past decade.
His political future has been in question since journalist and Conservative activist Kate Maltby suggested, in an article in November for the Times, he had behaved inappropriately towards her.
The 31-year old claimed the minister "fleetingly" touched her knee in a pub in 2015 and in 2016 sent her a "suggestive" text message which left her feeling "awkward, embarrassed and professionally compromised".
Mr Green, who is an acquaintance of the journalist's parents, said the claims were "hurtful" and "completely false".
But they were referred to the Cabinet Office for investigation by a top civil servant amid a swirl of allegations about harassment and other misconduct at Westminster.
In his resignation letter, Mr Green apologised to Ms Maltby for making her feel "uncomfortable".
The civil servant's inquiry also considered claims that legal pornography was found on a computer removed from Mr Green's office in the House of Commons in 2008.
Who is Damian Green?
Date of birth: 17 January 1956, aged 61
Job: First secretary of state since June this year. MP for Ashford in Kent since 1997
Education: Reading School in Berkshire, followed by Balliol College, Oxford University
Family: Married to barrister Alicia Collinson. The couple have two grown-up daughters
Mr Green, shadow immigration minister at the time, was arrested in November 2008 and was held for nine hours as part of a Scotland Yard inquiry into a Home Office leak.
The arrest was described as disproportionate and flawed by two inquiries in 2009 and no charges were brought against him.
Mr Green, who is married to barrister Alicia Collinson and has two grown-up daughters, has always strenuously denied that he either viewed or downloaded any pornographic material on his Commons computer.
But, in his resignation letter, he said he should have been clear that police lawyers talked to his lawyers in 2008 about the pornography, and the police raised the matter again in a phone call in 2013.
Although it took Mr Green a comparatively long while to make it to the cabinet table, he is no stranger to being close to the centre of power - giving up a successful career in newspapers and broadcasting to work as an official in John Major's Downing Street in the early 1990s.
The Welsh-born politician was on the Tories' pro-European wing, having refused to rule out the UK one day joining the euro, long after many of his colleagues had done so.
But unlike EU diehards such as Ken Clarke and Lord Heseltine, who also campaigned on the remain side in the 2016 referendum, he has been on something of a journey and has taken a more pragmatic approach to Brexit.