MP Nadine Dorries defends 'shared password' tweet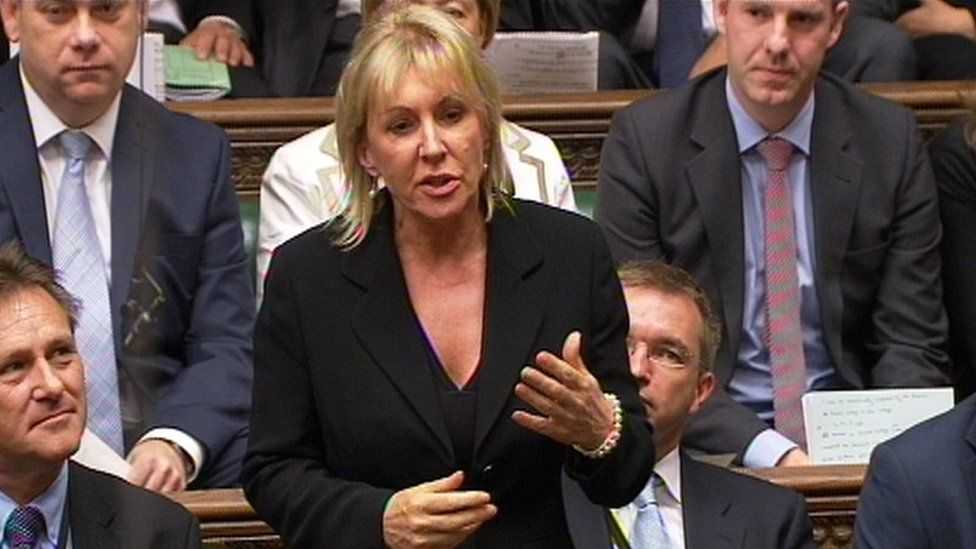 A Conservative MP has defended her cyber-security arrangements after revealing she shares her login passwords with all her staff.
Nadine Dorries said this included "interns on exchange programmes", triggering a backlash on Twitter.
In response, she said she was a backbench MP who did not have access to government documents.
The Mid Bedfordshire MP had been defending Conservative First Secretary of State Damian Green.
A Cabinet Office inquiry is examining claims pornography was found on a computer in Mr Green's Parliamentary office.
He denies watching or downloading pornography on his computer.
Ms Dorries was questioning a retired police officer's claim that Mr Green must have been responsible for material found on his computer.
My staff log onto my computer on my desk with my login everyday. Including interns on exchange programmes. For the officer on @BBCNews just now to claim that the computer on Greens desk was accessed and therefore it was Green is utterly preposterous !!

— Nadine Dorries (@NadineDorries) December 2, 2017
She defended herself in subsequent tweets, saying her team were responding to hundreds of emails every day.
All my staff have my login details. A frequent shout when I manage to sit at my desk myself is, 'what is the password?'

— Nadine Dorries (@NadineDorries) December 2, 2017
A fellow MP, Nick Boles, tweeted that he shared his password with his staff for the same reasons.
Ms Dorries later tweeted that she was "flattered" by people thinking she would have access to "government docs", adding: "Sorry to disappoint!"
Flattered by number of people on here who think I'm part of the Government and have access to government docs 😅
I'm a back bench MP - 2 Westminster based computers in a shared office. On my computer, there is a shared email account. That's it. Nothing else. Sorry to disappoint!

— Nadine Dorries (@NadineDorries) December 3, 2017
Jim Killock, of the Open Rights campaign group, said: "On the face of it, Nadine Dorries is admitting to breaching basic data protection laws, making sure her constituents' emails and correspondence is kept confidential and secure. She should not be sharing her log-in with interns.
"More worryingly, it appears this practice of MPs sharing their log-ins may be rather widespread. If so, we need to know."
He urged MPs' staff and former staff to get in touch with his campaign "if they have knowledge about insecure data practices in MPs' offices".
How to create strong passwords
Use different letters, numbers and characters; use uppercase and lowercase letters
Change the letters in a phrase to numbers, for example h3ll0
Abbreviate a sentence by using the first letter of each word
Make passwords long
Avoid personal information like the names, addresses or birthdays of people you know
Avoid common passwords, for example letmein, abcd, 1234 or, most famously, password
Avoid keyboard patterns, for example qwerty
Do not reuse passwords
Do not write your password on a Post-It and stick it to your computer
Keep passwords safe with a trusted password manager