Steven Moffat: Brexit voters delayed female Doctor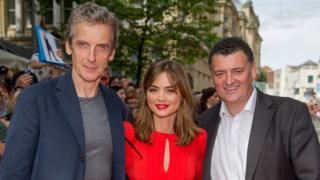 The outgoing head writer of Doctor Who has defended his decision not to cast a female lead during his tenure, to retain viewers who "voted Brexit".
Steven Moffat told Radio Times the BBC One programme was not "exclusively for progressive liberals" and "we have to keep everyone on board".
Jodie Whittaker was announced as the first female Time Lord in July.
She was appointed by Broadchurch writer Chris Chibnall, who will replace Moffat next year.
"If we had replaced David Tennant with a woman, it wouldn't have worked," Moffat said. "It was too early.
"We could have replaced Matt Smith with a woman, given that his Doctor was more sexless and less of a lad, but then I got obsessed with seeing Peter [Capaldi] in the Tardis - no regrets about that."
"No-one had any problem" with long-running character Master being turned into Missy, he said, adding: "But we have to worry about our Daily Mail-reading viewers saying, 'That's not the same person!' This isn't a show exclusively for progressive liberals; this is also for people who voted Brexit. That's not me politically at all - but we have to keep everyone on board."
But Moffat said now was the right time for a female Time Lord.
"It's going to work, I know it is. More and more of the audience were asking for it. It is absolutely the right choice," he said.
Moffat took over the reins of the BBC series in 2010. His final episode will be this year's Christmas special, which will see the 12th Doctor, Peter Capaldi, regenerate into Broadchurch star Jodie Whittaker.