Sir Vince Cable was on Daily Politics - here's what happened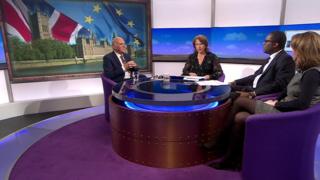 Liberal Democrat leader Sir Vince Cable took a break from the Commons on Tuesday to join Jo Coburn on the BBC's Daily Politics.
And there was much for the returning MP to discuss.
His reaction to the fallout from Tuesday's Brexit negotiations - which saw a deal on the Irish border seemingly collapse over a lunch in Brussels - was to simply call it "a mess" and remark on what he considered the "sheer incompetence" of the government.
But Sir Vince does believe it has helped his party's campaign, calling for a referendum on any final Brexit deal.
Remember that in the June election, when fighting on a pro-EU platform and for a second referendum on any Brexit deal, they secured 7.4% of the vote and sent 12 MPs to Parliament - an increase on the 2015 election but still way down on the 57 from 2010.
However, Sir Vince believes "the test is yet to come" for his party.
So are the Lib Dems just "UKIP in reverse" with their domineering Brexit stance?
Or will Remainers flock to support them come another general election?
Maybe a tune could help convince them, Sir Vince...
You can find out the answer to that question and watch the whole of Tuesday's Daily Politics on iPlayer here