Prime Minister's Questions: The key bits and the verdict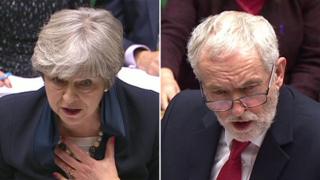 Theresa May and Jeremy Corbyn have gone head-to-head in their weekly House of Commons Prime Minister's Questions clash. What happened?
Westminster may be buzzing with speculation about a possible defeat for the government in tonight's vote on the EU Withdrawal Bill, but Jeremy Corbyn opted to go for housing and homelessness - more comfortable, and familiar, territory for the Labour leader than Brexit. Or maybe Labour wanted to keep their powder dry and not risk putting off possible Tory allies by giving the PM a hard time.
Just like last week, a loyal Tory backbencher gave Mrs May a helping hand at the start. Will the PM promise to give MPs a meaningful vote on the final Brexit deal, asked Cheryl Gillan. Why, yes, she replied, she will.
Both Theresa May and Jeremy Corbyn began with comments on Thursday's memorial service to mark six months since the Grenfell Tower disaster, which both of them will be attending. The Labour leader made some pointed remarks about how it was an "avoidable tragedy" and a sign of the betrayal of working class communities. Mr Corbyn then asked why homelessness and rough sleeping had "doubled".
Mrs May hit back with an attack on Labour's record on housing. Mr Corbyn called on the PM to promise that "fewer children will be without a home" by 2018.
Mrs May said building more homes was a priority for her government. Mr Corbyn then read out a letter from Rachel - he hasn't done the letter-from-a-reader format for a while - who says she has a "knot in her stomach" when her tenancy agreement is up for renewal.
The exchanges ended with the traditional trading of statistics, with Mrs May attacking Labour's record on housing.
It was the Labour leader who got the most fired up, as he attacked rogue landlords and property speculators - cracking down on them has been one of his key priorities.
The mood was relatively sober and restrained - and there was no attempt by either leader to veer off topic to bash each other on their wider policy agenda and record.
That's something they have been doing a lot of lately, writes my BBC colleague Joey D'Urso, to provide clips for social media.
What else came up?
The SNP's Iain Blackford asked the PM about bank branch closures - a subject raised later in the session by Labour MP Caroline Flint.
Several Conservative backbenchers brought up tonight's Brexit vote, with Heidi Alexander highlighting her amendment on a vote on staying in the single market.
Leading Tory rebel Anna Soubry asked the PM if "in the spirit of unity" she would back her colleague Dominic Grieve's amendment - which could see the PM facing defeat later - guaranteeing MPs a vote on any final Brexit deal before it is finalised. The PM did not budge.
Labour's Jack Dromey asked why no money had been spent on sprinkler systems for tower blocks in Birmingham.
The Verdict
What pundits are saying on Twitter