Wacky jumpers and jokes - this year's MPs' Christmas cards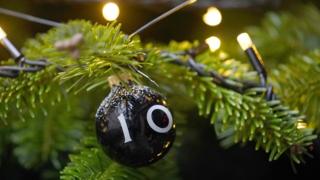 'Tis the season to be jolly - and for some MPs, sending out Christmas cards is a chance to poke some fun at themselves or promote the causes they feel passionately about.
Conservative MP Richard Harrington kicked off the festive merriment by giving Christmas the thumbs up in a Santa hat and Watford FC scarf...
Former Labour leader Ed Miliband took dressing up to the next level - by swapping his usual MP's attire to strike a biker pose in leather jacket and shades under some festive holly .... complete with infamous bacon sandwich.
And look what came in the post for Labour MP Justin Madders ...
A Christmas card from arch Eurosceptic Tory Peter Bone, who depicts himself as Father Christmas delivering coal to German Chancellor Angela Merkel and European Commission President Jean Claude Juncker, with the message: "You've been naughty".
Jeremy Corbyn spruced up the front cover of Labour's election manifesto "For the many not the few" with reindeer antlers and festive hats to wish his constituents a Merry Christmas.
But like many MPs, the prime minister subcontracted out the creation of her Christmas card, in her case to schoolchildren in her Maidenhead constituency.
Former Conservative international development secretary Priti Patel presented prizes to the winners of her Christmas card competition.
Scotland's First Minister Nicola Sturgeon - not an MP but an MSP - has chosen Paisley artist John Byrne's creation, Say it With a Kiss!, which features a couple about to share a kiss under the mistletoe, for her seasonal message.
But who can forget the Christmas cards of times past?
Here's former Labour prime minister Tony Blair and his wife Cherie giving us a taste of Downing Street in 2006.
And here's former Conservative PM David Cameron and wife Samantha celebrating the 2011 wedding of Prince William to Kate Middleton with a party in Downing Street.
What do ex-PMs send as their Christmas cards, you ask?