Meet the women leading our public bodies
By Becky Morton
BBC political reporter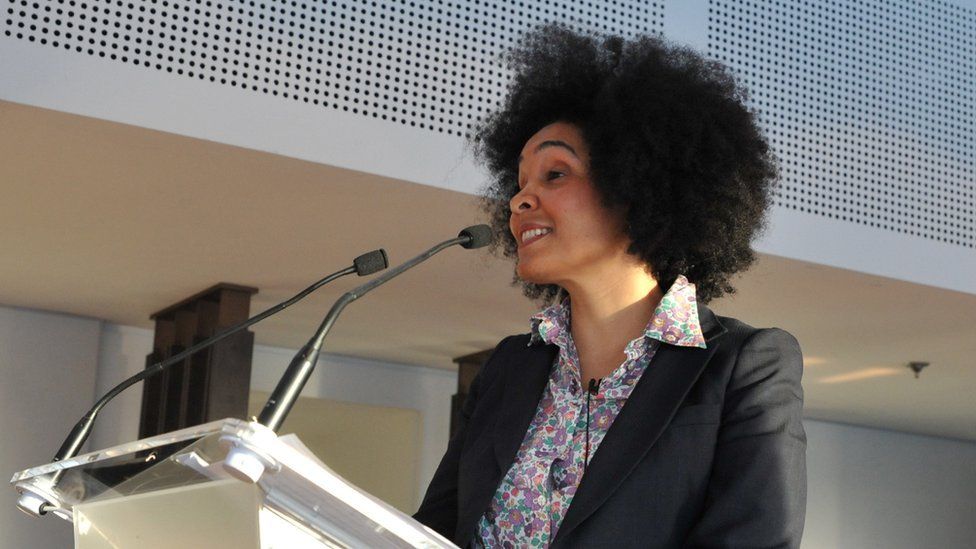 Rachel Wang is a 44-year-old mother of two and runs her own business. She is also on the board of trustees for the National Portrait Gallery.
"Being a trustee is not just about fancy dinners and private viewings. It's a job which comes with a significant commitment," she said.
Boards are responsible for taking key decisions and setting out strategies for public organisations across the country, from museums to prisons.
The government is launching a new plan to ensure these boards reflect society.
"Every institution needs diversity on its boards. They need our voices to be part of the conversation and the decision-making process," said Rachel.
Data published this year shows progress has been made - 49% of the 1,275 new appointments made by the UK government in 2016-17 went to women, up from 34% in 2011-12. And 10% of board posts are held by people from ethnic minorities.
But by 2022, the aim is to see a 50:50 gender split and 14% from ethnic minorities in England and Wales.
The UK government is setting up mentoring programmes and trying to raise awareness of opportunities through outreach events and social media to try to achieve its gender balance goal.
When Rachel saw the National Portrait Gallery was looking for a trustee with experience in digital media, she felt she could be a perfect fit.
As co-founder of Chocolate Films, a video production company whose specialisms included museums and galleries, she had plenty of relevant skills.
"I felt confident I had something to offer. But when I looked into it I had my reservations. The people on the board were very high-profile - billionaire investors, university professors, business moguls."
Ultimately it was her husband who encouraged her to apply and she got the role.
"I'm not a great one for job applications nor job interviews. In fact the last job I applied for was back in the noughties," she said.
"I run my own business so I don't have a CV. The learning curve was huge."
Natalie Campbell, 34, is an entrepreneur who runs a social innovation agency. She said mentoring could help people understand the application process and opportunities available.
She now sits on a number of boards, including for the Big Lottery Fund, contributing to decisions on how the organisation is run and where money goes.
"Mentoring is a key part of it. But mentoring needs to be before they even start the process, so they know how to start looking for these roles," she said.
Camilla Poulton, 40, who is a former lawyer, agreed it could be "a bit of a hidden world".
After taking a career break when she had children, she decided to apply to the Independent Monitoring Board for HMP Pentonville in London, which oversees conditions in the prison.
Her job involves talking to prisoners and staff about how the prison is working to ensure fair and humane treatment.
She found there wasn't much public information about the roles available and had to look at annual reports to work out what boards did.
"We need to make the work of public appointments more visible to different sorts of candidates," she said.
For Natalie, the most important thing about diversity is it avoids "groupthink".
"There are times when you need people around the table who can say, 'This is wrong, there are better ways to do this, we're forgetting this community.' New talent, diverse talent helps bring these different perspectives," she said.
"For me it's not just about gender or ethnicity or disability. If you have a board which is all-female but they all went to Oxbridge, you're not getting diversity of thought there either.
"It's also about socio-economic background. Having people around that table who have those lived experiences means the organisation will make much better decisions."
While boards have become more diverse, significant disparities still remain in top roles - when it comes to leadership positions, the figure for women drops to around 30%.
"There are not enough female chairs or chairs from an ethnic minority background or with a disability. If there was going to be another target, a target for chair positions would be great," said Natalie.
"But to become a chair you need to be around the table first, so it's a step-by-step process."
Minister for the Constitution Chris Skidmore, who is responsible for public appointments, said the targets were a "floor aspiration" and recognised "we still have a way to go".
Mr Skidmore also said that the government needed to work "much harder" to improve representation of people with disabilities, though current data was not yet "sufficiently robust" to set a target.
He said the government would commission a review into the barriers to disabled people taking up public appointment, to report next year.
While some positions are paid, others are voluntary and Natalie acknowledged being on a board is a significant responsibility.
"Yes, it takes up time but what you get back is invaluable. The things I get to do I couldn't pay to do," she said.
"Boards are not places where you sit around and have meaningless conversations. You're making decisions about things that make people's lives better, and that's what makes it worthwhile."