The MPs and ex-MPs who died in 2017 - part three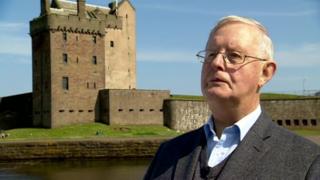 In 2017, we said goodbye to Alex Salmond's predecessor as SNP leader, a Tory MP who holds the record for the number of completed London marathons, two Labour MPs who caused big upsets when winning in 1997 and a Liberal MP who had a varied career also a naval officer, diplomat, hill farmer and author.
This is part three of a four-part series - read part one here, part two here and part four here.
Gordon Wilson: 16 April 1938 - 25 June 2017
Gordon Wilson, who died in June aged 79, led the SNP for more than a decade and was in charge during one of the most turbulent periods in the party's modern history.
The Edinburgh-educated Glaswegian, who made Dundee his home, was a lifelong advocate of Scottish independence and a lawyer who fought fierce ideological battles within his own party.
He joined the SNP in the late 1950s after graduating from Edinburgh University. One of his first notable achievements was to help set up and run the political pirate radio station, Radio Free Scotland.
He made his influence felt first as as campaigner and then as a party official. As vice-chairman in 1972, he coined the phrase "It's Scotland oil" which became the SNP's slogan during the two 1974 elections.
He was elected to Parliament, as MP for Dundee East, in February of that year and was returned with an increased majority eight months later, subsequently taking a lead in shaping and energy policy.
Five years later, he was elected national convener - or leader - as the party was smarting from its setback in the 1979 general election. His tenure was marked by internal disputes as he outlawed the '79 Group who had sought to blend nationalism with socialism and which he viewed as a divisive force.
Their members included figures who were to go on to play leading roles in the party in government, including Alex Salmond - who ultimately succeeded him as leader in 1990.
After losing his seat at the 1987 election, Gordon Wilson remained as leader - combining this with a return to legal practice - but his authority had been damaged.
He failed in an attempt to get elected to the European Parliament in 1999, and in his retirement he devoted his time to sailing and writing his book about his leadership entitled SNP: The Turbulent Years 1960 - 1990.
In his appreciation, BBC's political editor Brian Taylor wrote that Gordon Wilson will perhaps be remembered most for "the persistence and passion of his commitment to the cause he selected while still a young man".
---
James Davidson: 10 January 1927 - 29 June 2017
The Aberdeenshire naval officer turned Liberal politician, who died in June aged 90, represented his local area as an MP for just four years.
But this was just the tip of the iceberg of what the Scotsman said in its obituary about his "brilliantly multi-faceted life", which also saw him become a hill farmer, TV presenter, an author and a healthy eating campaigner.
Born into a naval family, he saw action in the Pacific at the tail end of World War Two and witnessed the Japanese surrender in Tokyo in September 1945.
After the war, he studied Russian at Cambridge and went on to serve as a naval attaché in the British embassy in Moscow at the height of the Cold War.
He returned home after inheriting a family farm and taught himself the agricultural business.
Adopted as the Liberal candidate for Aberdeenshire West, he was defeated in 1964 but two years later won the seat for his party for the first time in 35 years.
He served as the party's foreign affairs and defence spokesman after his election. Closer to home, he campaigned for improved transport links and economic development in the north-east of Scotland, while putting forward bills proposing a devolution referendum.
He backed Jeremy Thorpe in the leadership contest following Jo Grimond's retirement in 1967 after reportedly been approached about standing himself.
With his wife suffering from illness, he chose not to contest the Aberdeenshire West seat again in 1970.
After leaving frontline politics, he served for 20 years as chief executive of the Royal Highland and Agricultural Society of Scotland, which organises the popular Royal Highland Show.
Among other activities, he also became presenter of the long-running TV show Country Focus on Grampian, climbed the Eiger and was the author of a book on Scottish Naval history.
---
Roland Moyle: 12 March 1928 - 14 July 2017
Roland Moyle, who died in July aged 89, followed his father into politics and Parliament, serving as a middle-ranking minister for more than half of the 1970s.
In its obituary, the Guardian wrote that Roland Moyle "typified a generation of Labour politicians, now almost forgotten, who followed the ideological path first trodden by their working-class parents, but did so having acquired professional qualifications unavailable to earlier generations of their families".
Arthur Moyle, who started his life as a bricklayer, was parliamentary private secretary to Clement Attlee during the 1945-1951 Labour government, before becoming a life peer and the former PM's literary executor.
His son was involved in Labour politics at Cambridge before being called to the bar in 1954.
He worked as an industrial relations consultant and as secretary of the National Joint Industrial Council to the Gas Industry while also becoming a councillor in south London.
He was elected MP for Lewisham North in 1966, two years after his father stood down from the Commons, and subsequently held the re-drawn seat of Lewisham East between 1974 and 1983.
Serving as a ministerial aide to Home Secretary Jim Callaghan in 1969, he became involved in Northern Irish politics, and after Labour returned to office in 1974, he became minister of state for Northern Ireland - a post he held for two years during the height of the Troubles and with Ulster under direct rule.
He was promoted to minister of state in the department of health in 1976, handling controversial issues such as abortion time limits and cigarette advertising. He was also made a privy counsellor,
After his defeat at the 1983 election, he became deputy chairman of the Police Complaints Authority.
---
Gary Waller: 24 June 1945 - 21 July 2017
Gary Waller, who died in July aged 72, was one of a number of Conservative MPs who owed their political careers, at least indirectly, to Margaret Thatcher.
The former journalist and public relations consultant took the marginal Brighouse and Spenborough seat in West Yorkshire from Labour in 1979 as Margaret Thatcher swept into Downing Street.
After the seat was abolished in 1983, he represented neighbouring Keighley, which was even more marginal - for 14 years from 1983 to 1997.
He never held ministerial office but was an assiduous member of a number of committees, overseeing the work of the Parliamentary library and its IT system.
He hit the headlines in the mid 1990s when the People published a story saying he had fathered a child with the secretary of Tory colleague Sir Marcus Fox - claims which he acknowledged were true but which led him to accuse the newspaper of deceit and harassment.
After his defeat in 1997, he became president of the Harlow Conservative Association and later was elected to Epping Forest District Council, serving as a cabinet member at the time of his death.
He still holds the record for the number of marathons completed by an MP, having run in 11 in total and 10 while he was in Parliament. The MP, who excelled in cross country running at school, helped promote the first-ever race in 1981 by posing outside Parliament with a list of all 7.500 runners taking part.
In its obituary, the Yorkshire Post said as well as being a staunch defender of Yorkshire, he was also "renowned for his love of history and cars, especially Jaguars".
---
Nigel Beard: 10 October 1936 - 31 July 2017
Nigel Beard, who died in July aged 80, has the distinction of being the only Labour MP to date for the constituency of Bexleyheath and Crayford in south-east London.
He won the newly created seat in 1997, one of a swathe of typically Tory strongholds captured by Tony Blair.
His victory was particularly sweet as he had failed on three previous occasions - 1979, 1983 and 1992 - to get elected to Parliament and finally made it to the Commons at the comparatively mature age of 61.
He already had an extensive business career behind him, working for pharmaceutical firms ICI and Zeneca,
During his eight years in the Commons, he was regarded as a moderate and a loyalist, voting in favour of the Iraq invasion in 2003 and ID cards, while also campaigning on local transport and health issues.
One of his more high-profile yet unsuccessful campaigns was his attempt to fix British Summer Time as standard all year round, which he saw as necessary to reduce road deaths during the winter.
In an interview with the Guardian on the eve of the 2005 election, in which he lost his seat, he cited his upbringing in a Yorkshire mining community as being the strongest influence on his political outlook.
---
Kevin McNamara: 5 September 1934 - 6 August 2017
Kevin McNamara, who died in August aged 82, was one of longest-serving Labour parliamentarians in post-war history.
He first entered Parliament in 1966 following a by-election in Hull North, triggered by the death of the sitting MP. He was subsequently re-elected nine times, finally retiring in 2005.
He was known principally for his support for the political and civil rights of Catholics in Northern Ireland - which made him a figure of suspicion among unionists when he became shadow secretary of state for Northern Ireland under Neil Kinnock in 1987.
A supporter of a united Ireland, he held the post for seven years but was replaced by Tony Blair when he became became leader in 1994.
Mr McNamara, whose views on Northern Ireland, the role of trade unions and other issues were at odds with the grain of New Labour, suggested he had been replaced "because I'm fat and bald and green".
The son of a seaman, he had a Catholic education and was a history teacher and law lecturer before he entered Parliament. He was a staunch Republican and long campaigned for the scrapping of laws barring a Catholic from taking the throne or the monarch marrying a Catholic.
After he retired from frontline politics, he maintained his interest in Irish affairs, completing a PhD at the University of Liverpool on fair employment practices for foreign firms operating in Northern Ireland.
The Guardian, in its obituary, said he had "publicly committed himself to the pursuit of social justice, the dignity of the individual and the sanctity of family life, and he resolutely fought for all these causes throughout his years in parliament".
---
Sir Edward Du Cann: 28 May 1924 - 31 August 2017
Sir Edward du Cann, who died in September at the age of 93, was a businessman and Conservative politician who served as a minister in the governments of Harold Macmillan and Alec Douglas-Home in the early 1960s.
During a long political career, he was also chairman of the Conservative party and led the influential 1922 backbench committee for 12 years.
Most famously, he chaired a meeting of MPs in 1975 which triggered a leadership contest which saw Margaret Thatcher defeat Edward Heath.
After leaving full-time politics in 1987, he returned to his extensive business interests, becoming chair of conglomerate Lonhro under its buccaneering and controversial boss Tiny Rowland.
Sir Edward, who served in the Royal Navy during World War Two patrolling the North Sea, represented the Somerset constituency of Taunton between 1956 and 1987.
He held a number of middle-ranking ministerial posts in the early 1960s before becoming party chairman under Mr Heath when the party entered opposition after their 1964 defeat.
Over a decade later he hosted a crucial meeting of the 1922 committee of backbench MPs at his London home in which they demanded Mr Heath seek a fresh mandate from the party after his 1974 election loss. In the ensuing leadership contest he was surprisingly defeated by Margaret Thatcher and resigned.
Du Cann's financial affairs were not without controversy. His Telegraph obituary suggested his business career "dissolved into a morass of dubious ventures and unpaid debts".
But Du Cann remained a popular figure in Conservative political circles, addressing a meeting of the 1922 committee in 2013 at the age of 89.
---
Christine Butler: 14 December 1943 - 19 September 2017
Christine Butler pulled off one of the more sensational Labour victories in the 1997 election, winning the Essex seat of Castle Point - home to Canvey Island - for the first time in the party's history.
Although dismissed by some as a "paper candidate", she prevailed by just over 1,000 votes in one of the biggest shocks of the night.
She became part of the largest in-take of female MPs in parliamentary history, famously dubbed by the tabloid press as "Blair's babes".
Unlike some of her peers, which included the likes of Jacqui Smith, Ruth Kelly, Yvette Cooper and Maria Eagle, she did not go on to make a major impact in national politics but was well-respected and liked locally.
During her four years in Parliament, she was a member of the Commons Environment and Transport Select Committee and campaigned for better rail services for commuters, increased recycling and volunteering.
Representing a traditional Tory heartland, which had voted for Margaret Thatcher in huge numbers, she was always on borrowed time and duly lost her seat in 2001 - albeit by a wafer-thin margin of 985 votes.
Born in Lancashire, she worked in the NHS and pharmaceutical industry before getting involved in local politics, initially sitting on Essex County Council before making it to Westminster.