Chris Grayling: Tory government in no danger of toppling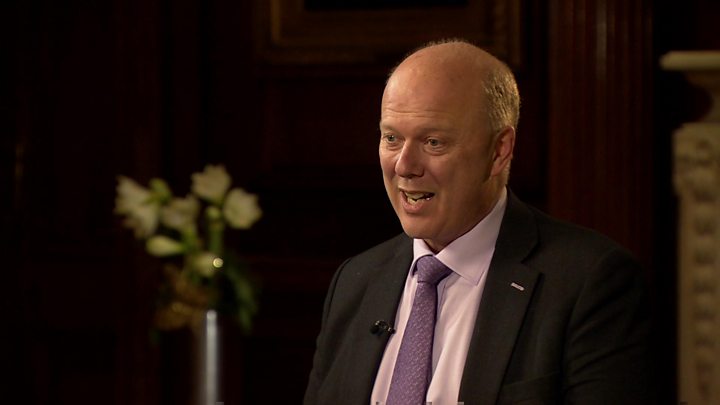 Chris Grayling has insisted the Conservatives are "not at all a Government that is going to topple".
The transport secretary was responding to claims by Jeremy Corbyn that there was likely to be an election next year and that Labour would "probably" win.
Mr Grayling told BBC Two's Newsnight no Conservative MP would vote to trigger an early election.
Mr Grayling said Mr Corbyn's claims were a sign of why he "isn't fit to be prime minister".
"He obviously hasn't read the Fixed Term Parliaments Act. The next general election is due in June 2022," he said.
"We have got a strong relationship with the DUP. We have got a team of Conservative MPs who are committed to taking this country forward."
Mr Grayling, who chaired Theresa May's leadership campaign, said there was no chance of Conservative MPs voting to trigger an early election - two thirds of MPs need to back the idea of an election being held for it to happen before June 2022.
He said: "When people say this, I ask the question 'can you name the Conservative MP who is going to vote for an early election, who is going to abandon the Brexit process and leave the country in danger of a far left-wing government led by Jeremy Corbyn?'
"There is no such member of parliament."
In his first interview with a women's magazine, Jeremy Corbyn told Grazia he was "ready to be prime minister tomorrow".
The Labour leader predicted that there was likely to be another election in the next 12 months" and Labour would "probably win".