Prime Minister's Questions: The key bits and the verdict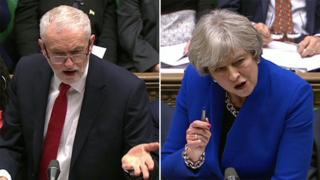 Theresa May and Jeremy Corbyn have gone head-to-head in their final House of Commons Prime Minister's Questions clash of the year. What happened?
Jeremy Corbyn ended the year with an all-out attack on what he said was the winter funding crisis in the NHS. Theresa May hit back with a blizzard of statistics on cancer survival rates, diagnostic tests and operation numbers. Mr Corbyn's anger about this core Labour issue went down well with his MPs, but the prime minister was in resilient form, taunting him about the fact that she is still in her job and he will not be "prime minister by Christmas" as he had once predicted.
Mrs May did not address any of the figures raised by Mr Corbyn and he did not acknowledge any of her statistical claims. The two seemed to be talking about entirely different healthcare systems.
The Labour leader broadened out his litany of alleged NHS failings under this government to social care - a touchy subject for Mrs May, as it torpedoed her general election campaign.
In what was increasing sounding like a greatest hits medley from both leaders, Mrs May then attacked the Labour-run NHS in Wales - Mr Corbyn said it got its money in a block grant from London.
What else came up?
For the second week running, the SNP's leader at Westminster Iain Blackford questioned the PM about bank branch closures, and for the second week running the PM told him it was an "operational matter" for the banks. She then threw in an attack on the SNP's tax plans.
Labour's Rosena Allin-Khan got the session off to an interesting start with a question on the 2,500 children in her Wandsworth constituency she said would be waking up homeless on Christmas morning. Theresa May said being homeless did not mean sleeping rough.
It was a long old session. Speaker John Bercow even managed to squeeze in some wedding congratulations.
Theresa May managed an ad-libbed joke at Mr Corbyn's expense at one point during the 52 minutes of exchanges.
And finally, former Lib Dem leader Tim Farron made a rare appearance at PMQs, to be greeted by a predictable barracking from the non-Lib Dem ranks.
And finally finally, it wasn't from PMQs, but this was an intriguing point of order from Tory MP Robert Halfon straight afterwards, whose staff found someone sleeping under a desk in his office.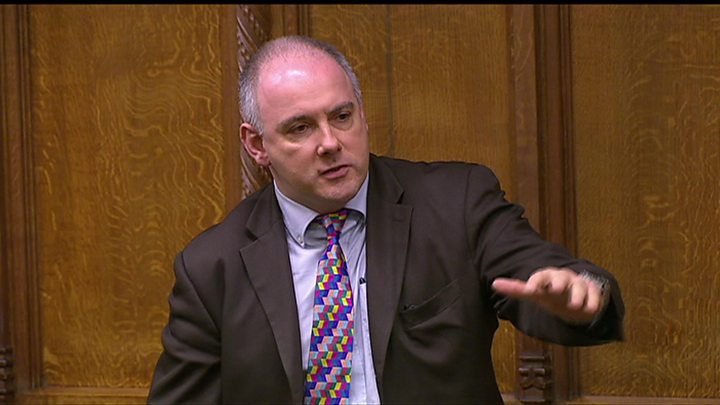 The Verdict
What pundits are saying on Twitter