Brexit: Be more patriotic about cheese, says Michael Gove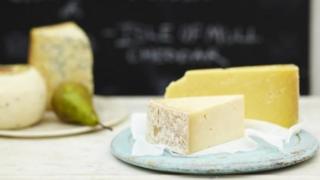 Michael Gove has hit back at claims the price of cheddar cheese will go up by 40% if Britain leaves the EU without a trade deal.
The environment secretary said that would not happen if consumers started buying more British cheddar.
"I am deeply concerned about your unpatriotic attitude towards cheese," he joked to the Labour MP quizzing him.
He said his department was "very pro UK cheddar" - and Britain's dairy farmers would respond to what the market wants.
His attempts to show off his knowledge of cheddar, by naming varieties such as "Montgomery or Lincolnshire Poacher", were cut short by environment committee chairman Neil Parish.
Britain currently imports "lots of cheddar" from Ireland, the Commons environment committee was told, but if it leaves the EU without a trade deal and goes to World Trade Organization (WTO) rules it will face tariffs on that product of 40%.
That meant prices in British shops would go up by 40%, Labour's Angela Smith claimed.
Mr Gove said it would be important to have these WTO tariffs if Britain left without a deal to prevent British farmers being undercut by cheap food imports - but he insisted the price of cheddar would not rise by 40%.
Agriculture minister George Eustice told the environment committee: "What would probably happen, if everybody put up such a tariff wall, is that we would consume more of the cheese we produce, rather than send it to Ireland, and Ireland would be selling us less cheese."
The UK currently exports £320m of cheddar to Ireland every year and imports £389m of cheddar, he told the committee (Ireland accounts for about 80% of all cheddar imports, according to the Agriculture and Horticulture Development Board).
Mr Gove suggested going to WTO rules was as likely as "a tsunami hitting the South West of England" and the government did not want to do it - but he told the MPs that his department was planning for such an eventuality.
He said that if it happened it would lead to higher food prices in the shops, but also more export opportunities for farmers. Mr Eustice quoted research by the Resolution Foundation that under WTO rules retail prices might rise by 4.3%.
Mr Gove also suggested he could block a post-Brexit trade deal with the US if it included allowing the import of chlorine-washed chickens.
He said it was a matter of animal welfare rather than food safety - saying American chicken farmers were "less respectful of the birds" - and Britain would need to be "assertive" in trade talks.
He claimed his department "punches above its weight" and has "extra muscle" in Whitehall so it would be able to insist on keeping its chicken and other food standards.
"The Cabinet is agreed that there should be no compromise on high animal welfare and environmental standards," he said.
In response to Mr Gove's comments the pro-Remain Labour MP Ben Bradshaw, of the Open Britain group, said Mr Gove's comments meant "a trade deal with Trump's America won't be happening anytime soon".