Theresa May seeks to reassure UK's Polish residents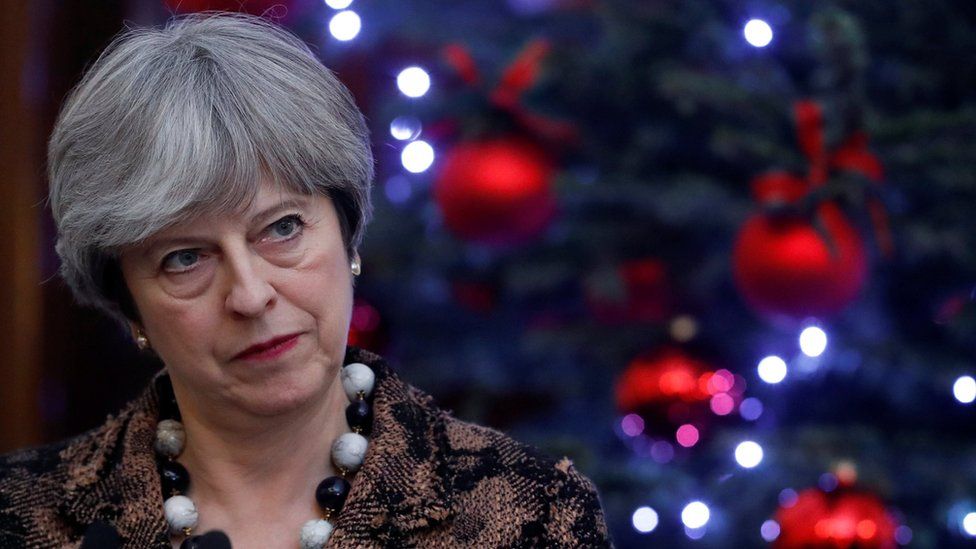 Theresa May has sought to reassure Polish people living in the UK that they are still welcome after Brexit.
Speaking on a trip to Warsaw to sign a new defence treaty with the country, the PM said the one million Polish residents were a "strong part of [UK] society".
She promised a "simple" and "easy" process to get "settled status" to remain after the UK leaves the EU.
She asked him to leave after he made "misleading" statements about claims pornography was found on his parliamentary computer.
Senior members of the cabinet, including Foreign Secretary Boris Johnson, Chancellor Philip Hammond and Defence Secretary Gavin Williamson, have joined her on the visit.
The prime minister told the bilateral summit in the Polish capital it was a "key priority" for her visit to "give assurance" to Polish nationals living in the UK that "we want them to stay".
"That's why we worked so hard to get a deal with the EU earlier this month, to guarantee the rights of EU citizens living in the UK," she added.
Mrs May said there would be certain requirements, such as the length of time a person has been in the UK, to achieve "settled status", but residents will be given a "significant period" to apply.
She added: "We value Polish citizens and other EU citizens in the UK. They have made a life choice, we want them to be able to continue with that life choice."
Co-operation after Brexit
The two leaders signed the defence treaty before giving speeches, saying it was a "powerful symbol" of co-operation.
Downing Street said it was only the second such agreement the UK has with a European ally, after France.
It provides a framework for enhanced co-operation in training, information sharing, defence procurement and joint exercises between the Nato partners.
The UK has also backed an initiative to blunt Russian propaganda in the region.
"Poland matters greatly to the UK," Mrs May said. "I am determined that Brexit will not weaken our relationship with Poland. Rather, it will serve as a catalyst to strengthen it."
Mrs May has also announced that the UK is to provide £5m of funding to a joint UK-Polish plan to counter Russian misinformation in the region.
Part of the money will go towards supporting Belsat, a Polish-funded TV channel broadcasting in Belarus, one of Russia's closest allies in the region.
Last month, Mrs May said Moscow was seeking to "sow discord" in the West by meddling in elections and mounting cyber attacks against critical infrastructure.
Downing Street said Mrs May would raise her concerns with new Polish Prime Minister Mateusz Morawiecki, but she told a press conference constitutional issues were "primarily a matter for the country concerned, not the EU".