Crumbling Parliament could be next Grenfell, Black Rod warns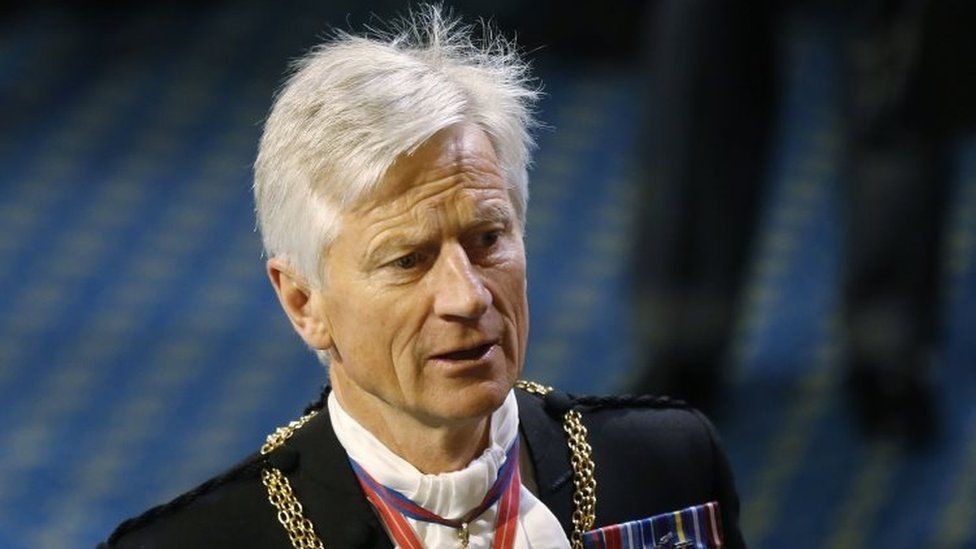 The UK's Parliament building is at risk of a "major fire and loss of life" and could be the next Grenfell Tower, a senior official has warned.
David Leakey, who is standing down as Black Rod after seven years, urged MPs to "find the courage" to spend £3.5bn on urgent repairs.
MPs are due to debate the restoration of Parliament in the new year.
Mr Leakey urged them to stop dragging their feet and back a plan to move MPs out while work takes place.
The other option, which would see MPs remaining in the building, could see the repairs taking up to 40 years and costing nearly twice as much.
He told The House magazine: "I know what the risks are here. Knowing in detail that the expert recommendation is that you should do this quickly and now, not slowly over time in phases.
"I know that is necessary in order to prevent another Grenfell Tower happening here. And that's the point.
"If we don't learn the Grenfell lesson, this building could burn down, just like it did in 1834 when there was a decade of delay and procrastination about how or when to refurbish the building.
"We will again be accused of sitting on our hands.
"What an embarrassment and a disgrace it would be to our nation if our Parliament suddenly disintegrated in a puff of asbestos because the steam pipes burst in the cavities around this building and the electricity and the IT infrastructure went with them.
"There could be a major fire. There could be loss of life."
Mr Leakey said politicians faced a "dilemma" when it came to spending money on their own place of work, with people bound to ask "if we couldn't spend a few million on the cladding of a residential tower block, why should we be spending billions - and it will be billions - on refurbishing the Parliament of this country?"
But he said millions of pounds a year are being "wasted" on patching up the building when a full restoration programme was needed.
"This is a national, global, iconic building. It has got to be either knocked down and rebuilt or it has to be preserved because it is so iconic, and that is the decision that has been taken - the right one, I think.
"Speaking as a taxpayer, on that assumption, there is only one option, and that is doing it quickly and in the most economical way and that should be the end of the matter."
Black Rod is best known for the State Opening of Parliament, knocking on the door of the House of Commons to summon MPs for the Queen's Speech but he also manages a team of 30 staff involved in the day-to-day running of the House of Lords.