Heseltine 'should be sanctioned' for Brexit comments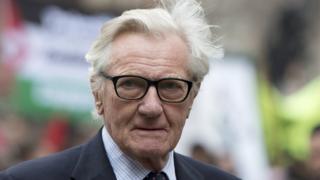 A conservative think tank is calling for Tory grandee Lord Heseltine to have the whip withdrawn for his "sniping" about Brexit.
Members of the Bow Group have accused the former deputy prime minister of "outright sabotage" and want him expelled from the Tories' Lords group.
It comes after he suggested a Labour government would be preferable to the "long-term disaster" of Brexit.
Lord Heseltine is a high-profile critic of leaving the EU.
Comments made by Lord Heseltine more than a month ago have triggered a backlash from the Bow Group after they were reported in The Guardian and other newspapers this week.
The Bow Group includes big name Tory Brexiteers Lord Tebbit, its chairman, and Lord Lamont, a senior patron.
Speaking to the Limehouse Podcast about the prospect of a Jeremy Corbyn-led Labour government, Lord Heseltine said: "We've survived Labour governments before.
"Their damage tends to be short-term and capable of rectification.
"Brexit is not short-term and is not easily capable of rectification.
"There will be those who question whether the short-term pain justifies the avoidance of the long-term disaster."
'Sabotage'
Tory MP Daniel Kawczynski, a Bow Group board member, said: "His lack of respect and loyalty towards the Conservative Party is deeply regrettable."
And the group's chairman, Ben Harris-Quinney, added: "Heseltine has made clear it is his aim to prevent Brexit at all costs, including the sabotage of his own party and nation, the Conservative Party must therefore withdraw the whip and end the inevitable continuation of his sniping from inside the tent."
The Bow Group describes itself as "the United Kingdom's oldest conservative think tank" which "represents all strands of conservative opinion".
Ahead of the 2015 general election, Mr Harris-Quinney was rebuked by its patrons when he urged Tory supporters in some areas to "lend their votes to UKIP" to help prevent a Labour government.