The risk and reward of reshuffles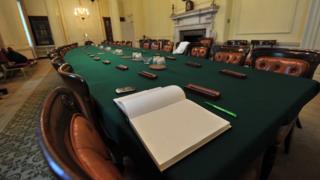 Prime ministers do not, as Theresa May well knows, have as much power to shape their fortunes as the trappings of the grand office suggests.
However, one of the things they can control is the timing of reshuffles, and at least the initial set of decisions.
They are the moment when the boss does the hiring and firing of their team - to punish or reward and to position supporters or enemies into the most politically convenient spots.
Whether reshuffles are forced upon leaders by political accidents, such as scandals or resignations, or a desire to refresh the look and direction of the government - it is both in this case - as with many other big set piece moments in politics, they are times of huge potential reward, but huge risk too.
Because of that, there are a few conventions, if not rules, to bear in mind:
Prime ministers need to avoid creating a bigger problem than the one they sought to solve by getting rid of an awkward colleague. Disgruntled at being sacked, annoyed at being ignored, some fired ministers will go on to become bigger irritants on the backbenches - where they can arguably cause more trouble than they did around the cabinet table. There, at least publicly, their loyalty was more or less guaranteed.
Ministers sometimes refuse to budge when they are told they are being moved, and conversely, others being offered jobs inside government sometimes turn them down. The responses of individuals can disrupt the best laid plans.
There is not necessarily a direct relationship between successful reshuffles and prime ministerial authority. Strong leaders have botched them sometimes. But clever reshuffles can embolden weak prime ministers.
Unless a reshuffle is epic - don't expect that this time - the public probably doesn't notice very much, as, quite rightly, the majority of people have got more to worry about than who the new parliamentary under secretary for paper clips is. But they do matter to political parties very much. Reshuffles can erase old grudges and create new ones in the space of a few short hours. And, of course, they matter hugely to government departments and people whose lives are affected by the decisions in one sector or another. Reshuffle days in Westminster are like bingo for political observers, but the decisions made have much bigger ramifications after that frenzied 24 hours. Even limited ministerial moves mean that different decisions and different priorities can be set in Whitehall that have real consequences for the country. Who is in charge of the government's existing plans does make a difference.
Despite that, new faces alone don't mean a new direction. Changing the personnel doesn't necessarily reset the government. This time, with the posteriors on the biggest seats in government expected to stay the same, don't expect Theresa May to change tack substantially.