Maria Caulfield: MP's new women's role sparks backlash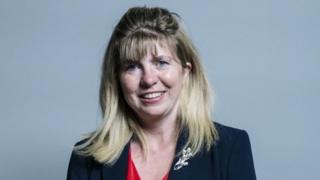 Women's right groups have criticised Theresa May's decision to appoint an MP who opposed the decriminalisation of abortion to a role representing women.
Maria Caulfield, new Conservative vice chair for women, said decriminalisation would lead to "abortion on demand".
Abortion provider BPAS said the PM's decision to appoint Ms Caulfield to the role was incredibly disappointing.
Sophie Walker, Women's Equality Party (WEP) leader, said Ms Caulfield could "never advocate effectively" for women.
The BBC has contacted Ms Caulfield - the Conservative MP for Lewes and a former nurse - for a response.
Currently, women in England and Wales have to prove to two medical professionals that carrying on with the pregnancy is detrimental to their health or wellbeing, before having a termination.
Without permission, abortion remains a criminal offence under the 1967 Abortion Act.
In March last year, a Ten Minute Rule Bill called for changes to the law, to prevent the prosecution of women who end their own pregnancies without permission.
The proposed changes would have meant women who, for example, order abortion pills online and self-administer would not risk prosecution.
However, Ms Caulfield spoke out against the bill saying the idea would leave young women less safe and "embolden" men who force women into abortion.
She said it would become a "charter for extreme abortion practices", including sex-selective abortion.
Ms Caulfield, a member of the all-party pro-life parliamentary group, said she feared the proposal would fuel "unethical and unsafe" procedures.
In a statement, BPAS (the British Pregnancy Advisory Service) said it was "shocked" the Conservative Party had appointed an MP "who supports the criminalisation of women who end their own pregnancies".
It said Ms Caulfield had been a "leading opponent" of the proposed bill, which did not become law and has not been reintroduced since last year's general election.
"That the new Conservative vice chair for women believes that these women should face up to life imprisonment is appalling. Maria Caulfield has stated that she wants to be a 'voice for the unborn child'," BPAS said.
"It is profoundly disappointing that the Conservative Party did not think that a better choice for vice chair for women would be someone willing and able to speak up for the one in three women who will have an abortion in their lifetime."
In a string of tweets, BPAS added that Ms Caulfield's views were "out of step with members of the public and her own parliamentary party".
Sophie Walker, of the WEP, and feminist author Judith Orr also objected to the appointment.
Labour MP Diana Johnson, who introduced the Ten Minute Rule Bill, said it was "really depressing".
She accused Ms Caulfield of "arguing for women to still be covered by Victorian laws".
A fresh debate on the decriminalisation of abortion in England and Wales was sparked in July, when doctors backed overhauling the 1967 Abortion Act.
Members at the British Medical Association's annual conference voted to scrap legislation that an abortion without permission was a criminal offence.
However, fellow Conservative MP Nadine Dorries tweeted her support for Ms Caulfield, whom she felt had been attacked for holding a "different point of view".
In 2015, Ms Caulfield voted with the government opposing the removal of the so called tampon tax, currently levied on female sanitary products.
Just three Tory MPs - all men - voted in favour scrapping the tax.
Having been appointed to the position of party vice chair for women, Ms Caulfield tweeted that on her first day in the role she had raised the issue of access to sanitary products for women in custody with the home secretary.
She said it was an "important issue".
Ms Caulfield's appointment is part of a major shake-up at Conservative headquarters (CCHQ), where she will now work.