Esther McVey: Labour criticises promotion but condemns trolling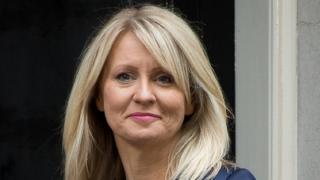 Labour has said Esther McVey's appointment as Work and Pensions Secretary is "alarming" but condemned social media attacks on the Tory MP.
Ms McVey was "extremely unpopular" due to her "disastrous and damaging" record as a welfare minister between 2012 and 2015, a party spokesman said.
During that time, the Conservative Lib Dem coalition controversially cut benefits, including for the disabled.
Ms McVey was one of a number of women promoted in Theresa May's reshuffle.
She lost her West Wirral seat to Labour at the 2015 election following a highly charged campaign but returned to Parliament in last June's snap election as MP for Tatton in Cheshire.
The former TV journalist has been the target of online abuse since she was disabilities and then employment minister during the coalition years.
The Conservatives have called on shadow chancellor John McDonnell to apologise to Ms McVey for strongly worded comments he made about her in 2014, when he was a backbench MP.
He sparked a row by repeating the words "why aren't we lynching the bastard?" - which had been aimed at Ms McVey by a constituent of hers - in reference to Ms McVey during a comedy night.
McDonnell row
In a subsequent parliamentary debate, Mr McDonnell suggested Ms McVey was playing the victim and he hoped that the electorate would "remove the stain of inhumanity" at the 2015 election.
Mr McDonnell has repeatedly insisted that, in doing so, he was not inciting violence against her but "in parliamentary debate, you have to be honest about how you feel".
Responding to the online trolling of Ms McVey since her appointment was announced, a spokesman for Labour leader Jeremy Corbyn said he condemned all forms of online harassment.
But he added: "Esther McVey is extremely unpopular because of her record in the last government as a DWP minister and the treatment of disabled people under that government.
"It is not encouraging at all, it is alarming, that she has now taken on this role with all the baggage that goes with that."
In her roles as disabilities and then employment minister, she spearheaded the government's back-to-work initiatives, which supporters say contributed to falls in unemployment during the period.
But like other DWP ministers, she became associated with benefit changes, including the spare-room subsidy, an overhaul of housing benefit and the controversial work capability assessment.
She also attracted controversy in 2014 when she said there was "no robust evidence" linking food bank use to her government's welfare reforms.
'Horrified'
Asked about Mr McDonnell's 2014 comments, shadow foreign secretary Emily Thornberry said she "would never talk about anybody else like that".
But, during an interview on BBC Radio 5 live, she suggested many claimants who had seen their benefits cut while Ms McVey was last in government would be "horrified" at her promotion.
Ms McVey was given the job after it was turned down by former Education Secretary Justine Greening.
She replaces David Gauke, who has moved to Justice Secretary, becoming the fifth work and pensions secretary in less than two and a half years.
Born in Liverpool, Ms McVey began her career as a broadcaster and journalist, presenting and producing programmes such as GMTV.
In 2000 she started her own business setting up office space for new start-up companies as well as establishing the biggest business women's network in the north-west of England.