Labour steps up harassment investigation into MPs Lewis and Hopkins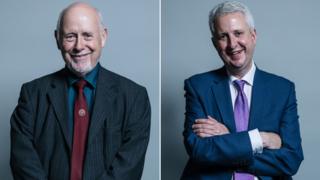 Labour has stepped up its investigations into two MPs accused of sexual harassment.
The cases of Ivan Lewis and Kelvin Hopkins have both been referred to an internal disciplinary committee.
Mr Lewis said he would "co-operate fully," while Mr Hopkins said he was happy to go to the committee to "clear my name".
The Bury South and Luton North MPs, who both deny the allegations, were suspended by the party in November.
Their cases have now been referred to Labour's national constitutional committee (NCC), which deals with disciplinary matters and has the power to order expulsion from the party.
'Co-operate fully'
The two men are among a number of MPs of different parties being investigated over allegations about past conduct towards women.
Mr Lewis has represented Bury South since 1997 and has served in various roles in the shadow cabinet, most recently as shadow Northern Ireland secretary until September 2015. He served as a minister in Tony Blair and Gordon Brown's governments.
He said: "I note the decision of the Labour Party to refer this matter to a full hearing of the National Constitutional Committee. I will continue to co-operate fully with any investigation."
Mr Hopkins has been MP for Luton North since 1997 and spent most of his career on the backbenches but was briefly promoted in July 2016, before returning to the backbenches in October that year. He was among 36 Labour MPs who backed Jeremy Corbyn's leadership bid in 2015.
He said in a statement: "This issue needs to be dealt with by due process and I am happy to go to the NCC to clear my name. I shall be making a full statement when the inquiry is complete and am not saying anything further today."
'Fobbed off'
The woman who made the complaint against him, Ava Etemadzadeh, has said he sent her inappropriate text messages and made inappropriate physical contact while hugging her in 2014 and 2015. She had complained to the party later in 2015 - Mr Hopkins was promoted to the front bench, albeit briefly, in June 2016.
Speaking on Friday, Ms Etemadzadeh said she would "cautiously welcome the fact that my case is finally being heard" but, she added, it was only happening because she went public with her complaint, having been previously "fobbed off", while Mr Hopkins went on to be promoted.
"I know the NCC will take its responsibilities seriously, act with integrity and I look forward to finally having my say," she said.
In a statement issued on Friday, the Labour Party said: "After consideration of statements provided by the complainant and the respondent, the NEC's sexual harassment panel has agreed that on the balance of the evidence the matter should be referred to a full hearing of the national constitutional committee.
"The Labour Party will not be commenting further on this case until the conclusion of that hearing."