UKIP loses another MEP as Jonathan Arnott quits party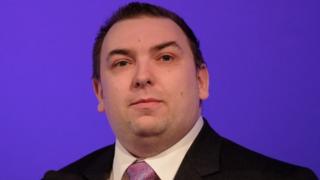 A leading UKIP politician has quit the party saying its leader Henry Bolton is "not the right person for the job" and its influence over Brexit is waning.
Jonathan Arnott, MEP for the North East of England, said he had lost confidence in Mr Bolton but thought no better of those "jockeying" to replace him.
UKIP, he added, had "shifted" its stance on religious and cultural issues to a degree he could not support.
Mr Bolton faces a crunch meeting of UKIP's executive on Sunday.
There have been calls for him to quit amid criticism of his leadership following his relationship with a 25-year old former model who reportedly made racist comments about Meghan Markle.
In his resignation letter, in which he confirmed he would continue to serve as an independent member of the European Parliament, Mr Arnott suggested the party had lost its anti-establishment edge and was beset by "unpleasant" infighting.
'True believers'
"After nearly 17 years of trying to make this party something I could be proud to represent, I do not take this decision lightly but there is no longer any alternative," he said.
"Over the last week it has become abundantly clear that the current leader is not the right person for the job, but likewise that those jockeying for position and hoping to take his job would be no better.
"Politics has always been like that, but as true believers in a cause, we always thought ourselves to be different. Once, maybe, but no longer."
Other leading figures, including former leader Diane James and leadership contender Steven Woolfe have quit the party in the past 18 months - in which UKIP has had four different leaders.
The party had 24 MEPs elected at the 2014 European elections but now only 18 remain in the party. UKIP have been contacted for a comment.
In his resignation statement, Mr Arnott said: "The unpleasant nature - the Steven Woolfe fracas, the Diane James fiasco, the Anne-Marie Waters debacle, the John-Rees Evans bizarreness, the countless leaks, briefings and character assassinations - became almost as bad as the political establishment I had hoped to counter.
"With yet another new leader came new forlorn hope."
Amid speculation about the future of other MEPs, former economics spokesman Patrick O'Flynn tweeted an "update about his status".
Correction 20 January 2018: Updated to remove reference to a tweet by UKIP's former deputy chairman Suzanne Evans which had been wrongly reported as a tribute to Mr Arnott.