Labour would take hospital cleaning into public hands - Chakrabarti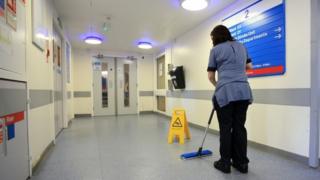 "Life and death" services such as hospital cleaning should be brought back into public hands, Labour's Baroness Chakrabarti has said.
She said ministers must have oversight of "vital utilities" and take responsibility when things go wrong.
Labour leader Jeremy Corbyn has seized on the collapse of Carillion to call for an end to the "outsourcing racket".
Theresa May has vowed to fine bosses who "line their own pockets" while failing to protect pension schemes.
In an article for The Observer, the prime minister promised tough new rules, after it emerged Carillion's collapse could leave the outsourcing giant's pension scheme with a deficit of as much as £900m.
'Better outcomes'
She also defended the use of private companies to deliver public services.
"Time and again, the private sector plays a valuable role helping to support the public sector.
"By lending additional capacity and expertise, independent providers can help deliver a better service - and better outcomes - for people."
At last year's general election, Labour promised to change public procurement rules to encourage firms to recognise trade unions and pay UK taxes.
But the collapse of Carillion, which runs everything from school meals services to operating theatres and prisons, has prompted Mr Corbyn to go further.
He told the Guardian a Labour government would change procurement rules to make the public sector the default choice for providing services.
'BMW motorbikes'
Quizzed on the BBC's Sunday Politics about how far the party would go, Baroness Chakrabarti said: "There are some things that the private sector probably does better.
"When you're running a police force you're unlikely to say we'll make the motor bikes for the police officers better than BMW," said the shadow attorney general.
"Maybe you will, but I doubt that that's going to happen any time soon."
But she said the state should take responsibility for non-core services, such as hospital cleaning, because "cleanliness in a hospital is quite often a matter of life and death".
"Of course we want a thriving private sector, but some vital services need to be run by public servants and with ministers held to account," she added.
PFI 'rip-off'
Cleaning services were among the first parts of the NHS to be outsourced to private contractors in the early 1980s, although the practice is more widespread in England than in Scotland, Wales and Northern Ireland.
The NHS says it was a "relatively small" customer of Carillion, but it had triggered emergency plans to ensure continuity of cleaning, catering and other services at 14 trusts following the company's liquidation.
Labour has also promised to end the Private Finance Initiative (PFI) "rip-off" if it wins power.
Shadow chancellor John McDonnell told the BBC's Andrew Marr show he believed PFI was wrong and "I said so from the beginning".
Confronted with comments he had made in support of a new PFI hospital in his constituency, the Hayes and Harlington MP said: "It was the only show in town. That was the point I made time and time again in debates, you are forcing people into PFIs when they don't want them."
He also dismissed a report by right wing think tank the Centre for Policy Studies, which said his nationalisation plans would cost "at least £176bn" and add 10% to the national debt, saying "Parliament will determine the price" of nationalisation.
The report's author Daniel Mahoney said it was "deeply disturbing that Labour's nationalisation plans involve seizing assets below market values".
He claimed the policy would "hammer" the value of many people's pensions "since pension funds are major investors in the utilities".