MPs block ex-expenses chief Sir Ian Kennedy's new job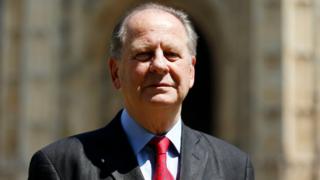 MPs have voted to prevent the former boss of the Commons expenses watchdog from getting a new job.
Sir Ian Kennedy was set to be appointed to the Electoral Commission, and no objections were raised by the leaders of the Westminster parties.
But MPs voted by 77 to 46 against the appointment, with one branding him an "arch quangocrat" and criticising his expenses reforms.
Sir Ian's critics were accused of "petty behaviour" by one MP.
Sir Ian was chairman of the Independent Parliamentary Standards Authority until 2016.
The organisation was set up as a response to the expenses scandal, but the subsequent system has been criticised by some MPs, who say it is difficult to work with and treats them unfairly.
Labour MP John Spellar said Sir Ian had "largely created the dreadful, anti-elected member, vindictive attitude that has permeated so much of Ipsa".
The organisation has "taken as its premise that they are there to make life difficult for members of Parliament," he added, questioning the process that led to the "arch quangocrat" being put forward.
Conservative former minister James Duddridge suggested the 76-year-old was too old for the job, adding: "Whilst our expenses system desperately needed to be reformed, I don't think there's a single member of the House that thinks Ipsa is a system that is a system lacking in bureaucracy that couldn't be well reformed.
"I don't think he did a good job."
But Labour's Bridget Phillipson, who served on the appointments panel, said correct procedures had been followed with a "comprehensive and lengthy interview process".
And the SNP's Kirsty Blackman said she was "honestly quite baffled" at the MPs criticising the planned appointment, and "shocked" at Sir Ian's age being raised as a factor.
"It's pretty clear that there's a significant personal element to how some members feel about this," she said.
When he left his role with Ipsa in 2016, Sir Ian hit back at his critics, describing his task as having been "part constitutional reform, part mud-wrestling, part pioneer frontiersman, and part voyager through Dante's Inferno".