Sir Ian Kennedy accuses MPs of 'squalid vendetta' over expenses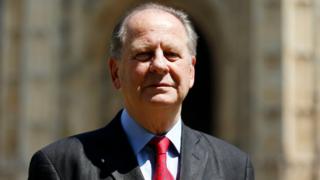 The former head of the Commons expenses watchdog has accused MPs who blocked his appointment to a new job of a "squalid vendetta".
Sir Ian Kennedy said a "rump" of MPs opposed his attempts to "clean up" the expenses rules and "simply want the old system back".
He was responding to a vote on Tuesday where MPs rejected his appointment as an electoral commissioner.
Sir Ian had already been recommended by an independent panel.
The Westminster party leaders did not oppose his appointment, but MPs voted against it by 77 to 46.
Labour MP John Spellar said Sir Ian had "largely created the dreadful, anti-elected member, vindictive attitude that has permeated so much of Ipsa", and questioned the process that led to the "arch quangocrat" being put forward.
And former Conservative minister James Duddridge suggested the 76-year-old was too old and that while expenses had needed reform, he had not done a good job in charge of the Independent Parliamentary Standards Authority (Ipsa), which he left in 2016.
Ipsa was set up as a response to the expenses scandal, which peaked in 2009 when the Daily Telegraph obtained details of MPs' claims.
The revelations triggered a public backlash, an apology from the prime minister on behalf of politicians and sweeping new rules including a crackdown on the funding allowed for MPs' second homes.
However, the subsequent system put in place by Ipsa has been criticised by some MPs, who say it is difficult to work with and treats them unfairly.
Sir Ian told the BBC the description of him as a "quangocrat" was "not only ill-informed but offensive", saying it did a disservice to his "40 odd years of public service", mostly with the NHS.
The independent appointments committee's recommendation had been "simply hijacked" by objecting MPs, he said, adding that the process needs looking at if it can be "put at risk by what I would describe as a squalid vendetta".
Ruling him out on age grounds would have been illegal, he said, adding that the reason for MPs' objections "had to be something else" with most comments relating to Ipsa.
'Unaccountable'
Implementing expenses reforms "was not always smooth", but had resulted in a transparent system, he said.
"I and my colleagues cleaned up the mess after the MPs' expenses scandal, and the system we put in place... reflects the interest of the taxpayer and not just those of MPs.
"There remains a rump of MPs who simply want their old system back. An unaccountable and somewhat disreputable system."
"If you are a regulator you do not expect to be loved, but you do expect to be understood...some refuse to accept that the world has moved on."
Sir Ian said that the MPs' tactics was "not what one expected of elected representatives", but was in one sense "eminently predictable", citing prior HuffPost reports that they were plotting "revenge" for his expenses crackdown.
The appointment ended up being debated on the floor of the Commons because some MPs objected to it being handled by a "delegated legislation committee", which is normal practice.
Sir Ian said while he was "surprised" the government did not try to ensure the vote was passed, "they have got many other things on their plate".
He said he had been hoping to tackle postal vote fraud, party funding and cyber crime with the Electoral Commission.
"I was looking forward to getting my teeth into it, but there we are."
You can check which MPs voted for and against Sir Ian's new job here.