Theresa May responds to her detractors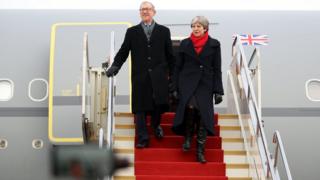 It was a long way off a mea culpa, and not even close to a confessional.
The prime minister is, she told us, "not a quitter" - echoing her response to the last bout of jitters.
In response to the recent rumblings on her own side, she urged MPs to focus on what matters to the public rather than, she implied, high jinx at Westminster.
Theresa May said the next election wouldn't be until 2022, implying that she and the Tories have, in her view, plenty of time to show the country that they can improve the lives of ordinary people.
But having been often accused of sticking her fingers in her ears and ignoring reality, the prime minister did for the first time acknowledge that she needs to do more to explain what the government is up to and to be more forceful about what she believes she has achieved.
In the face of repeated questions from a couple of dozen journalists, crammed in a couple of rows of the plane to China, the prime minister didn't broker any lengthy conversation about her position in charge, or give anything away when asked about any hypothetical leadership process, saying "it's a matter for the party... let's talk about the here and now".
This was not a prime minister in any mood to admit it was all going horribly wrong.
But she has conceded that perhaps she and No 10 need to up their game, to fight harder to get their message across.
How? That's a different question. But her remarks were more than a simple show of defiance to those who believe her time as leader is nearing an end.